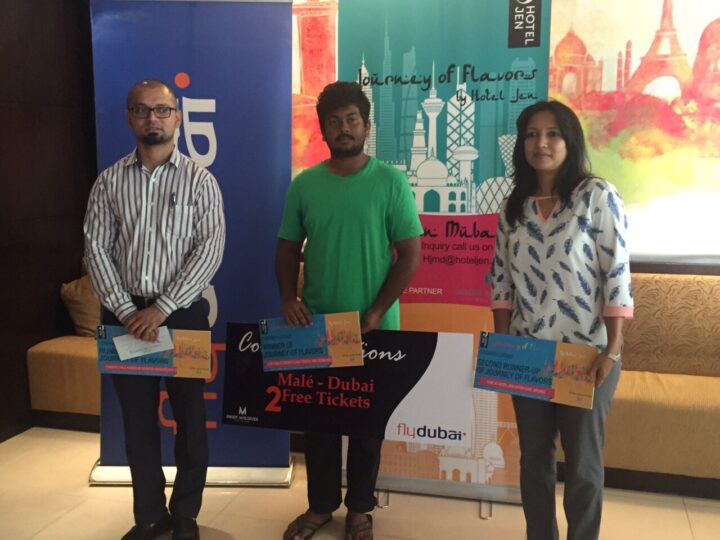 Hotel Jen, Maldives announces winners of 'Journey of Flavors' lucky draw
Hotel Jen has announced the winners of their Ramadan Iftar lucky draw, 'Journey of flavors'.
The event held yesterday at LIME restaurant, Hotel Jen Maldives, saw the winners take home prizes sponsored by Hotel Jen and Inner Maldives Holidays.
Managing Director of Inner Maldives, Mohamed Firaq gave away the 1st prize won by Mohamed Hazim – return air tickets to Dubai with compliments of Inner Maldives Holidays.
Zafar Agacan, General Manager of Hotel Jen Maldives gave away the 2nd prize which was won by Dr. Savant, a 02 night stay on full board basis at Kuredu Island Resort, including return transfer, for two persons.
Salim Abdoolcader, Director of Operations at Hotel Jen gave away the 3rd prize which was won by Dr. Shanaz, a 03 day, 02 nights stay with at Hotel Jen Upper East Beijing, including complimentary breakfast for two persons.
Speaking at the ceremony, General Manager Zafar Agacan expressed his gratitude for the people who participated in the lucky draw, and Inner Maldives Holidays for sponsoring the grand prize.
Mohamed Firaq also took a moment to thank Hotel Jen, Maldives for their great initiative for giving such opportunities for the people.
The 'Journey of Flavors' promotion began on the first day of Ramadan this year.