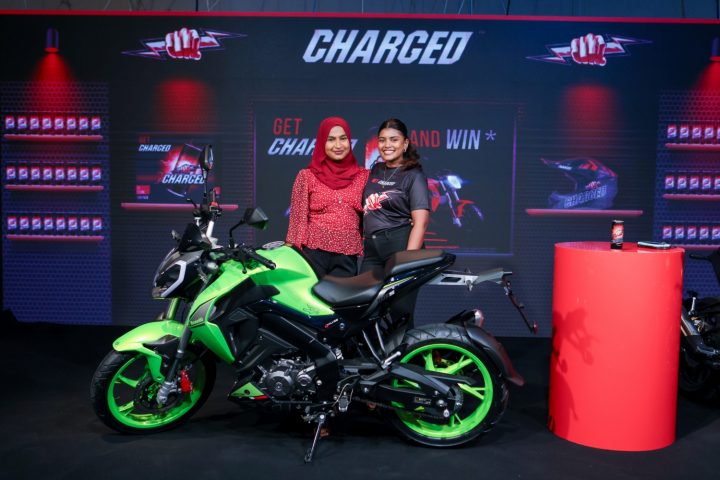 4 draws, many winners, more opportunities in 'Get Charged and Win' promotion
The 'Get Charged and Win' promotion, which launched with great fanfare on June 23, continues to captivate audiences across the nation with its promise of incredible prizes and adrenaline-pumping excitement. As Coca-Cola moves forward, the company has announced not one, but four draws that have rewarded lucky winners with exciting prizes!
The 'Get Charged and Win' promotion has been a huge success, with dozens of lucky winners taking home amazing prizes, such as Benelli motorbikes, helmets, and Charged drink cases. The promotion, which started on June 23, has been attracting customers from all over the Maldives, who have been enjoying the refreshing taste of Charged caffeinated beverage and the thrill of scratching their cards to reveal their codes.
So far, four draws have taken place, each one broadcasted live on Television Maldives (TVM) at 9:30pm. The winners of the Benelli motorbikes were Mohamed Adam, MD Musharraf, Mohamed Rasel Hossain and Ahmed Zahir who were ecstatic to receive their prizes and thanked Charged for making their dreams come true. The winners of the helmets and drink cases were also delighted with their rewards and encouraged others to join the promotion.
But don't worry if you haven't won yet, because there are still more chances to win! The 'Get Charged and Win' promotion is not over yet. That means you still have time to grab your favourite Charged drink, scratch your card, and send your code to 2626 via SMS.
As the exciting journey continues, there are two main draws left in this thrilling event, scheduled for September 24 and October 20. You could be the next lucky winner of a Benelli Leoncino 250 motorbike! But the excitement doesn't stop there; be sure to keep an eye out for the daily draws, with winners announced regularly on the @ChargedMaldives Instagram page. You could stand a chance to win a Charged branded helmet, or a Charged drink case.
Charged, a ground-breaking addition to Coca-Cola Maldives' beverage portfolio, is available in 250 ml, in 100% recyclable aluminium cans, in line with our packaging strategy to use 100% recyclable packaging material. The caffeinated beverage is now widely available at major retail outlets, hotels, restaurants, and cafes throughout the Maldives.