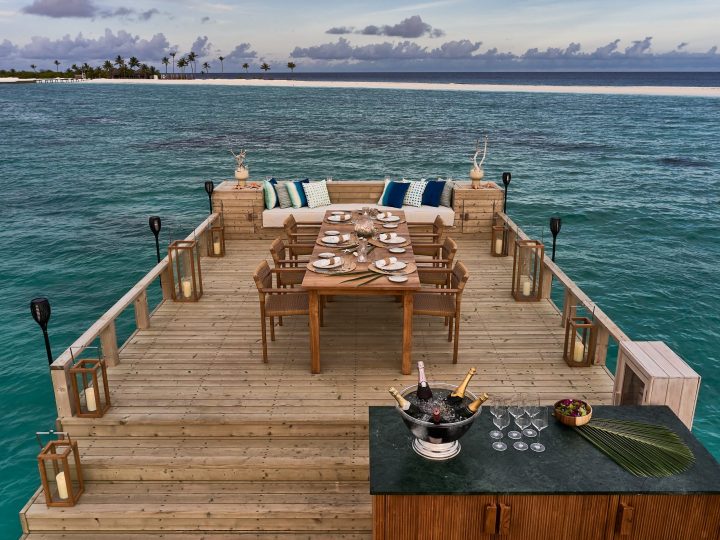 5° North by Finolhu Baa Atoll Maldives Introduces New Dining Experience
Finolhu Baa Atoll Maldives has introduced a new, exclusive dining experience at 5° North, situated on a special platform, with uninterrupted sea and sky views.
The platform, located exactly 5 degrees North of the Equator over the island's lagoon, offers a private and secluded experience for couples and families.
Available for a minimum of two and a maximum of eight persons, guests can select their choice from curated menus including steak, seafood or vegetarian options.
After starting with a choice of the chef's speciality platter, oysters or Mediterranean spreads, guests can order signature main course dishes such as Angus beef sirloin steak, lamb merguez sausages, marinated reef fish, grilled Maldivian lobster and jumbo prawns to halloumi cheese skewers and vegetables marinated in mild spices.
To finish off, guests can choose a dessert from baked cheesecake, espresso crème brulee biscotti, chocolate chia seed pudding and fruit skewers.
This new dining experience at Finolhu aims to take destination dining to a new level by combining exclusivity and seclusion with fine cuisine.
Owned and managed by Seaside Collection, Finolhu is a luxury island resort renowned for its two-kilometre white powdery beaches that stretch out across four islands. In addition to 5° North, Finolhu has four restaurants offering a variety of gastronomic experiences for visitors.
Featured Cover Image: Finolhu Baa Atoll Maldives