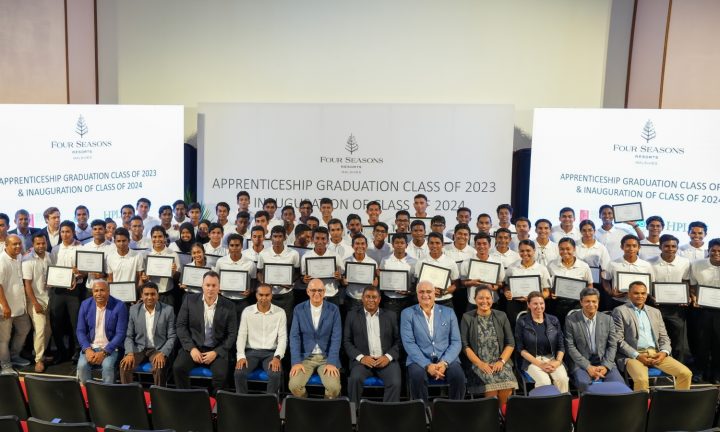 59 graduate Four Seasons Resorts Maldives' 2023 Hospitality Apprenticeship Programme
Aim high, celebrate curiosity, discover your source of joy, and become a relentless lifelong learner. This was the message graduates of the Four Seasons Maldives Hospitality Apprenticeship Programme took away on June 24, 2023 as they celebrated becoming the latest of a total of 809 young Maldivians who have benefited from the longest running and most successful programme of its kind in the Indian Ocean.
Now in its twenty-second year, 2023's Apprenticeship Programme saw 59 apprentices gathered for a special ceremony held at Maldives National University Auditorium, Malé. Not only have the cohort graduated in disciplines such as Food & Beverage Service; Food & Beverage Preparation; Housekeeping & Guest Services; Retail; Front Office & Recreation; PADI Dive Master; Safe Maritime Transport (SMT); Engineering, Marine Biology and Watersports, but they'll also take away an immersive experience of developing a growth mindset for learning and life.
The ceremony was also a welcome to 2024's Apprenticeship intake of 69 hopeful students from across 30 islands who cannot fail to be inspired by the energy and verve of 2023's graduates.
Attended by Chief Guest of Honour and Honorable Minister of Tourism, Government of Maldives, His Excellency Dr Abdullah Mausoom, thanked Four Seasons for giving hope to many young Maldivians since the inception of the Apprenticeship program in 2001. He also expressed his concern of the shortage of human resources in the country in relation to the needs of the tourism industry, one industry where he believes AI will not take over the service business.
Four Seasons Resorts Maldives Regional Vice President, Armando Kraenzlin congratulated the graduating class of 2023 as "the Class that included perhaps the most talented culinary apprentices we have ever had. So talented were these young people, some of them won gold and other medals in the recent national culinary competition and beat many of their much more experienced industry colleagues."
"For the first time, and very exceptionally – we are graduating three expatriate students from the tiny Micronesian island nation of Palau, who have travelled halfway around the world to participate in the programme. This is part of an exchange agreement between the two governments that will see 21 Maldivians spend a year in Palau from this summer to start up a new Four Seasons venture. What a marvellous opportunity for the youth of both nations," commented Kraenzlin.
Celebrating dedication and drive, the 2023 graduates are equipped with a range of skills applicable across every area of the industry and beyond. Qualifications included Advanced Engineering with Level 4 certifications in Electrical Installation, Refrigeration and Airconditioning and Level 3 in Plumbing and Welding. 2024 apprentices can look forward to the introduction of a new first-year module in Photography.
Accredited by the government of Maldives since 2010, the Four Seasons Hospitality Apprenticeship is open to young Maldivians, aged 17 to 20, who meet a number of entry criteria. No previous work experience is required but the youngsters need to have O-Level certifications and fluency in both written and spoken English. Training takes place five days a week and the apprentices live and work onsite in the beautiful surroundings of Four Seasons Resorts of Kuda Huraa and Landaa Giraavaru in the Maldives.
Echoing the familial relationships that build amongst long-term staff at the Resorts, the apprentices are supported throughout their learning experience. Performance appraisals and tests are taken at regular intervals to check if and when extra learning support is needed, and a buddy and mentor is assigned to each apprentice to offer encouragement and advice.
Teamwork is at the core of all Four Seasons operations and the youngsters come away with an enhanced commitment to professionalism and perseverance for the good of the whole – an outlook that will serve them for life.