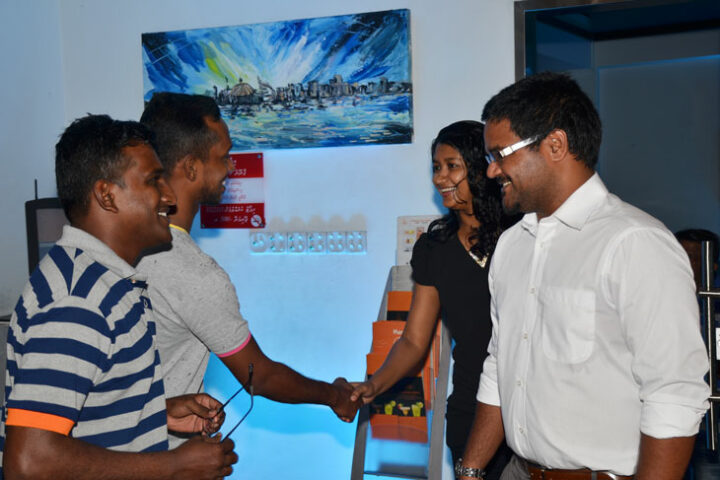 Hotelier Maldives marks two years in print
The bi-monthly print and online magazine launched in January 2014 celebrated two years in print with a dinner hosted for partners and friends. The event was attended by resort GMs, representatives from prominent hotel suppliers, airlines and international hotel management companies.
The magazine allows a forum for the presentation and exchange of information from and among the network that makes up the hospitality sector in the Maldives. Logistical service providers and freight forwarders, chefs and ingredients suppliers, talent and culture directors to engineers and designers all make the industry such a diverse and dynamic one that it constantly attracts the best talent. "Part of our objective with Hotelier Maldives has been to capture some of this in our print edition and on hotelier.mv in the form of exclusive GM interviews, career profiles and other remarkable stories from this engaging sector. While this in itself is a rewarding endeavor, the value in it for the readers has been apparent by the increasing number of our readers," said Mash-hood Abdulla, who has worked for several years in various resorts of the Maldives and who currently leads sales and marketing for the print edition of the publication.
A total of 1800 copies are presently printed of each issue of Hotelier Maldives. Of this, at least 10 copies are sent to resort GMs and other key staff on all operating resorts in the Maldives. Additionally, copies are also circulated to hotel suppliers, bankers, hotel management companies, airline offices, travel and tour companies, etc.
Hotelier Maldives is published by Perspective Pvt Ltd (PPL), a company registered in the Maldives with interests in content marketing, PR, leisure and travel related services. In addition to Hotelier Maldives, PPL presently produces the in-room brand magazine for Coco Collection Resorts and Hotels owned by the Sunland Group. Earlier in the year, PPL also produced a newsletter for the country's oldest association of hoteliers, the Maldives Association of Tourism Industry (MATI).
You can view the photo gallery of the event here.