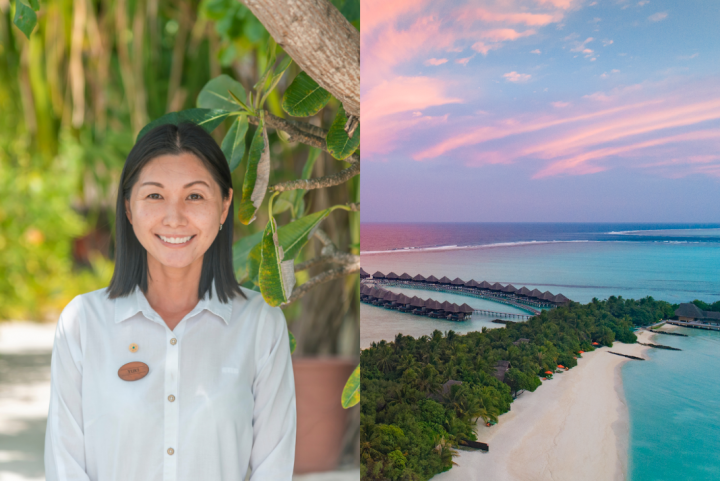 A Day in the Life of Yuki Matsutori
Yuki Matsutori began her hospitality career in 2009 at her home country Japan. She always had a strong passion to meet new people and experience the world outside Japan. In 2011, she moved to Maldives with an opportunity to work with Taj Exotica Resort & Spa. She started her international hospitality career with Taj Exotica Resort & Spa as a Guest
Relations Officer almost 10 years back and with her dedicated efforts, today she is the Assistant Guest Relations Manager for the resort.
"Taj Exotica Resort & Spa Maldives gave wings to my dreams of working with colleagues from diverse cultures and serving so many guests from different parts of the world. My escapade about different cultures, their unique choices, likes and dislikes has been a truly enriching journey," Yuki Matsutori.
05:00 AM– I am an early riser. I prefer to start my day at Four O'clock in the morning. I get ready for work looking my best and head straight to the reception. Before I begin my work day, I usually take a round throughout the resort facilities and common areas to see they are well prepared for the guests. Then I check my work schedule and arrangements for all the arrivals and departures for the day, customize the special gifts for all the departing guests and send out all relevant guest information to all designated colleagues.
08:00 AM– On an ordinary work day, I get to wear many hats and the best part about my job is I get to multi-task. I handle the telephones, I drive the buggy to pick up the guests, I handle concierge queries, I plan itineraries as well as I manage customer grievances and complaints. What I enjoy most is meeting all my guests and wishing them a great start for the day as they head down for breakfast.
10:00 AM– I conduct the briefing for the team and set direction for them to achieve their tasks and goals for the day. I then attend to my emails and finish all the inter departmental coordination. The time after that is focused on receiving and welcoming all the arrival guests to the resort, with customized welcome experiences based on their profile, such as special occasions, repeaters and age groups etc.
13:00 PM– Most of the days I go for lunch during mid-day, this is the time I get to meet my colleagues working in other departments, to catch up on each other.
15:00 PM– The second half of the day is when I get to be more creative. I conduct kids' activities for young guests staying with us, plan special gifts and work on the touch points to impress our guests, make itineraries and activity planners for them. In short, working towards bringing a smile to their faces is one of the most important parts of being a Guest Relations Manager. After all, it is all about those little things which can make a memorable stay.
18:00 PM– This time of the day is mostly dedicated to fond farewells for our departing guests and leaving them with a promise to return. It also marks an end to my day, however, before I sign off, I make my 'to do' list for the key points to complete on the following morning. After all, I am a very diligent girl from Japan who can be a bit of a workaholic at times.
As an Assistant Guest Relations Manager, her biggest encouragement to work daily in the hospitality industry is that guest relations itself is all about customization and personalization. It is about innovation and creativity, from planning special occasions for guests like birthdays, anniversaries, weddings, babymoon or simply celebrating a milestone or achievement. My work gives me several opportunities to touch many lives and give them the happiness and excitement that they are looking for. The smile on their face as they experience my unique plans and touch points for them is my biggest driving force.
In her free time, Yuki loves listening to music and watching movies. She also enjoys traveling herself and her dream travel destination is Greece, to explore it's exciting sightseeing, cuisine, history and heritage.