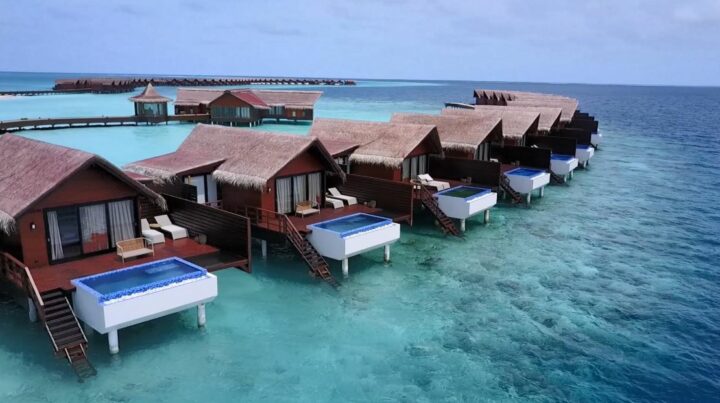 Abdulla Mohamed, Managing Director of Amin Construction Pvt Ltd
Amin Construction Pvt Ltd—established 1984—is led by managing director Abdulla Mohamed. It was registered as a limited liability company involved in civil construction, carpentry works and the wholesale trading business. Hotelier Maldives sits down with Abdulla Mohamed to speak about the company's role in the future of the country's construction sector.
Hotelier Maldives: When did Amin Construction venture into the construction industry, especially the resort development sector?
Abdulla Mohamed: Amin Construction was officially incorporated in 1984, but we have been operational as early as the 70s. We started out very small, and have over the years grown to be one of the largest contractors in the country.
We ventured into major civil and construction projects in 1987 with upgrading work at the Felivaru Fisheries Maldives Ltd—the fish canning factory in Lhaviyani Atoll. And we also undertook resort construction projects at a very early stage.
The first resort project we assumed was the development of Hudhufushi Island of Lhaviyani Atoll in 2001. Our company was still young at the time but we were brave enough to take on the endeavour.  But it was not a smooth project, as we had to begin development prior to receiving any finances from the developer, which resulted in a great loss for the company.Later, we also worked on Laamu Olhuveli Resort and in 2012 we worked on the development of The St. Regis Maldives Vommuli where we did the concrete structures. Some of our other major projects include the Monetary Authority building, State Trading Organisation (STO) building, Maldivian High Commission building in Sri Lanka, Gan Airport project, Majeedhiyya School, Radisson Hotel in Hulhumalé, Domestic Terminal in Velana International Airport, Fuvahmulah Airport project, Equatorial Convention Centre in Addu City, Velaanaage building, and a number of harbour development projects in the islands.Our growth in the past years is due to the development and boom of the construction industry.We owe it to our diligent staff, the board of directors and supportive business associates for the excellence we have achieved.
HM: Do you have any resort projects currently in the pipeline?
AM: We developed Kodhipparu Island earlier this year, which was acquired by Chip Eng Seng of Singapore. The property is now operated by Singapore-based Park Hotel Group as Grand Park Kodhipparu. The 120 villa resort was designed by world-renowned hospitality firm, Hirsch Bedner Associates, and we worked as the principal contractor for Kodhipparu Investment which is owned by AMIN Construction.
We are currently working on two of our own resort developments, which is Amingiri and Dhidhoofinolhu Island, also located in Kodhipparu lagoon. Reclamation work on the islands is currently progressing.We have yet to decide on how we will manage the resorts once they open in 2019. Apart from resort projects, we are on the verge of completion of AMIN Avenue, a 279 mixed-used residential apartments in Hulhumalé, which consists of three buildings and a retail podium.We are about to start construction of a 20 storey 90 residency apartments together with a retail podium in Malé by the name of AMIN Residence and currently, ground works are in progress.
HM: What are some of the major advancements the construction sector has seen over the past years?
AM: I would first like to note that the country's construction industry is seeing a time of massive expansion, thanks in part to efforts by the Government. As for the past, I notice that local contractors were not very keen on exploring new avenues and technologies until very recently; methods of construction were very limited here until now. In the recent past, the building construction sector heavily depended on shutting down streets and deploying cranes to do concrete works.But today, the scenario has changed. We have been contracted a 20-storey building in Malé, and we will be deploying ready-made concrete mix from batching plants and pumps, which will immensely expedite the process. Look at the skyline of Malé City today, and you will find it to be lined with tower cranes, which is a sign of the technological advancements and progress of the construction industry.HM: What are the major challenges facing the construction sector today? And how do you see the future of the industry?
AM: I believe all of the local contractors will agree that the biggest predicament facing us today, and one which we're never really been able to overcome, is that of financial constraints. Local contractors do not bear the capabilities to finance construction projects, especially projects as large as the development of resorts.
This forces the contractors towards banks and other lenders, but what we face are unreasonably high-interest rates and other financial challenges. I believe numerous development banks need to step into the market which will be a solution to this problem; where we are offered lower interest rates and more flexible payment options.The construction sector saw a huge downfall in the recent past, where some contractors were at a shutdown due to financial constraints. But I see it is currently on a recovering trajectory, especially due to new policies on waiving off performance guarantees and advance payment guarantees for projects which are smaller than MVR15 million.Today, contractors are also offered credit facilities to acquire raw materials, which will assist in taking the construction sector to the next level. I see brighter days ahead for local contractors and the construction sector as a whole.