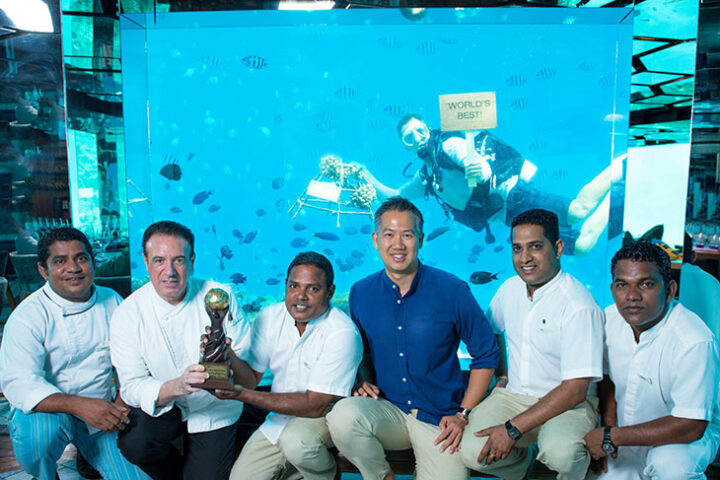 Anantara Kihavah's underwater restaurant earns three-star accolade In World's Best Wines List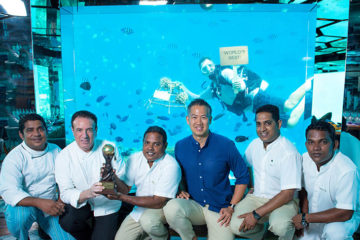 Anantara Kihavah Villa's acclaimed underwater restaurant, SEA, has received the prestigious three-star accolade from the World of Fine Wines Magazine for a second consecutive year.
Of more than 4,000 restaurants across the globe that were considered for the premier publication's World's Best Wine Lists, just 896 restaurants were bestowed with one, two, or three-stars. Only 300 wine lists made it into the top three-star category.
Since its inception, the wine awards have become established as one of the most prestigious awards and the pinnacle of excellence within the restaurant community.
"These exciting new global awards are rapidly becoming as coveted as Michelin Stars," said World Sommelier Champion Gerard Bassett.
The esteemed panel of senior judges this year included some of the world's greatest experts, including Alder Yarrow, Elin McCoy, Ch'ng Poh Tiong, Andrew Jefford, Andreas Larsson, Francis Percival, Tom Stevenson and The World of Fine Wine Editor Neil Beckett.
"Few restaurants in the world can claim to offer its guests a view as distractingly gorgeous as that offered by Sea Underwater Wine Cellar and Restaurant In such a setting, the food and wine needs to be special if it's to be anything more than a supporting player," observed The World of Fine Wines.
"But a glance at the fine international cuisine and extensive collection of bottles suggests a remarkable gastronomic as well as visual spectacle—a spectacle where Michel Picard Puligny-Montrachet 2010 is matched with Atlantic salmon mi-cuit, crisp potatoes galette, snow peas trendrils, and an orange and miso reduction."
With a mirrored interior, SEA offers guests a spectacular 360-degree view of the Indian Ocean's mesmerising marine life and serves lunch and dinner, as well as breakfast on request.
Four-course degustation menus are served by the winning combination of Senior Wine Guru Nilesh Bootun's expertise of varietals and vines, and the culinary 'Haute & Nouvelle Cuisine' experience of the resort's new Executive Chef, Lamberto Valdez.
The European cuisine is paired with suggestions from the restaurant's Senior Wine Guru Nilesh Bootun.
"Our Wine List enables oenophiles to embark in a journey with amazing adventures from Old World to New World by discovering some prestigious selection among 360 labels, handpicked from 20 renowned wine-producing countries including the new horizons such as India, China, Thailand and Turkey," said Bootun.
"Personal taste always varies from each individual but the preference of enjoying young wines (ready to drink) to vintage treasures (at their peak) would be definitely possible with the 90 year of wine history (from 1924 to 2014) having a selection from each decade."
Voted by World Travel Awards as the World's Best Underwater Hotel Restaurant in 2015, SEA doubles as a restaurant and the world's only underwater wine cellar, with coveted 360 labels in its collection.
"This incredible restaurant offers the unreal experience of dining underwater—no diving gear necessary. We're very honoured and proud to have been acknowledged by World Travel Awards as the World's Best Underwater Hotel Restaurant. Our underwater dining adventure is right in the heart of Baa Atoll and the only one in the world on the edge of a natural reef. With more than 100 species of marine life swimming around, no matter what the time of day it is, guests can be sure of great views, with delicious cuisine and an enviable wine selection as well," said Jean-Marc Ma-Poon, general manager.
Located in the Baa Atoll's UNESCO World Biosphere Reserve, Anantara Kihavah Villas won Leading Villa Resort in the Maldives at the World Travel Awards 2015.
Anantara is a luxury hospitality brand for modern travellers, connecting travellers to the indigenous, grounds them in authentic luxury, and hosts them with passionate expertise. The portfolio currently boasts over 30 stunning properties located in Thailand, the Maldives, Indonesia, Vietnam, China, Cambodia, Mozambique, Zambia, the UAE and Qatar, with properties across Asia, the Indian Ocean, Middle East and Africa in the pipeline.
.