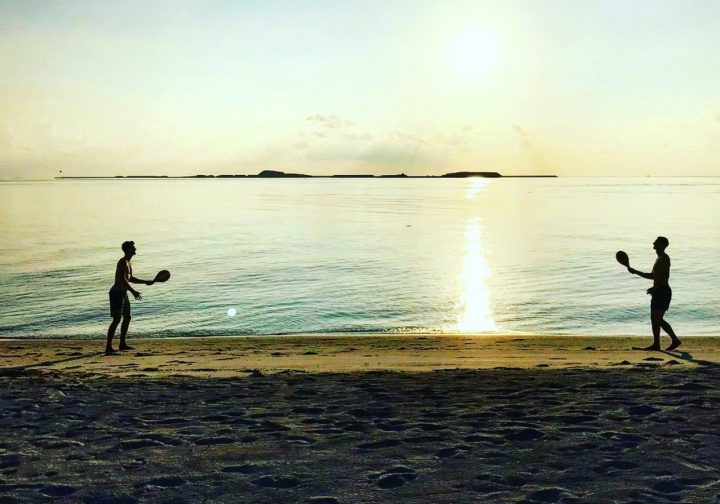 Andy Murray holidays in Jumeirah Vittaveli as it unveils unforgettable Festive Season
Tennis star Andy Murray has enjoyed some quality time with his family at Jumeirah Vittaveli, posting pictures of his time on his Instagram page. The 31-year-old was seen relaxing, shooting golf balls into the ocean, and playing tennis on the beach at the "2017 Global Hotel of the Year" winner, ahead of his comeback from a recent injury.
"We had an amazing time at Jumeirah Vittaveli and would like to thank all the staff that made our stay so special," said Andy, commenting on his stay at the luxury resort. "The food was outstanding and we were able to relax, with a trip on the semi-submarine where we explored the house reef and coral nurseries a highlight." The former world number one has been out of play following a hip surgery in January, which forced him out of action since last year's Wimbledon.
Jumeirah Vittaveli is inviting guests to an unforgettable Festive Season in a tropical winter wonderland; from skating on the first ice rink in the destination (eco-friendly as made from artificial Glice) to listening to a traditional Christmas Carols Choir; from creative Christmas tree creations all around the resort to festive activities for the entire family to enjoy; from Santa Claus himself surprising younger guests with a visit to an astounding circus show taking your breath away on New Year's Eve; from a traditional Christmas gala with baked ham and plum pudding to set gourmet menus  with oysters and caviar at our fine dining venues; from live music, to a spectacular firework to ring in the new year in style.
Jumeirah Vittaveli recently unveiled its newly revamped Ocean Villas, which have been refurbished with water slides, offering more than an awe-inspiring view. All of the resort's freestanding Private Ocean Retreats and seven Infinity Pool Ocean Villas now offer the 23-metre slide which runs from the top deck into the gentle waters of the crystal clear lagoon. For more information, visit hwww.jumeirah.com/en/hotels-resorts/maldives/jumeirah-vittaveli.EDITOR'S NOTE: Featured images courtesy of https://www.instagram.com/AndyMurray/