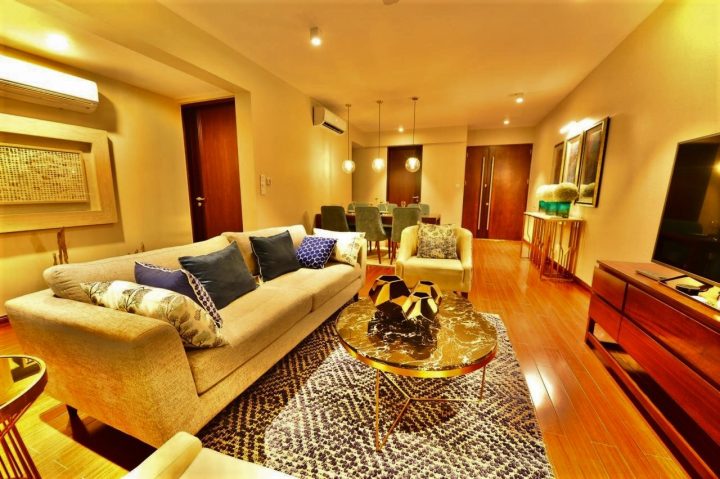 Aqua Vita Residency – Setting the Standard for Excellence
An evolution of Modernist Architecture designed with both purpose and intention to create a sublime experience of space and light, Aqua Vita is not just a home, but an extraordinary lifestyle choice.
The luxury residential complex developed by NPHD- a joint venture by  Ayenka Holdings Pvt Ltd, Sri Lanka, and NPH Investments Pvt Ltd, Maldives, consists of 98 unique apartments including six grand penthouses spread across 14 floors with a land area of 21,188 sq. feet. Situated at on the scenic edge of Hulhumale phase one, this character-filled residence features grand spaces & seamless transitions throughout. Aqua Vita, having surpassed its architecture and design, is truly a work of art.
The exterior of the residency presents clean lines and core elements that lend unpretentious beauty and allows an elimination of virtual clashes. Further, the light, open and quietly spectacular, vast interior spaces are the epitome of sleek and chic; simultaneously casual and elegant with only the finest quality finishes and material elements thoughtfully selected.
Inspired by the natural beauty of Maldives, the interior consists of creative artwork by local craftsman allowing the culture to be displayed in a contemporary backdrop. The voluminous open floor plan, includes high end infrastructure, soaring ceilings and walls of glass effortlessly incorporating indoor and outdoor space.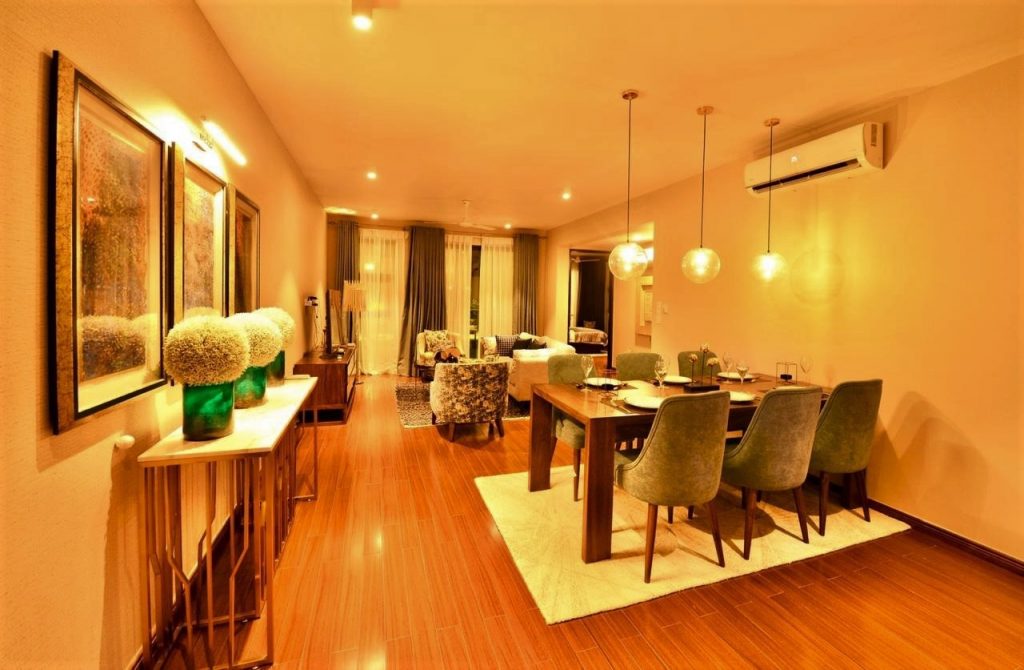 The semi-furnished house embodies a spacious and bright open living and dining floor plan, as well as natural lighting throughout. The two and three-bedroom apartments have been designed in a manner that all the rooms are embellished with a view of the widespread Indian ocean along with a private balcony which serves as a personal haven. The carefully designed close kitchen concept adds sophistication that comes with the state-of the art pantry and inbuilt fixtures from high quality international brands. Safety is assured with the central gas, and double-gazed windows are included to dampen sound.  Additionally, high end fixtures and fittings in the attached bathrooms give a luxurious finishing combined with smart technologies for optimization of water usage.
Aqua Vita homes are complete with all the necessary facilities and amenities to ensure the maximum comfort and convenience for its residents.  Key features include a 16m long swimming pool with a large deck area, a kids play area, and a fully equipped gym.  Additionally, there is also a large hall which could be used for large business meetings or private functions, is also integrated to the Club house. The property also compromises of ample shared parking space where a limited number of slots can be purchased. The safety and privacy of the residents are taken care of via technology-based access control and surveillance systems.  Once you enter the residency, the outside world becomes irrelevant as you experience luxury at its finest.
This stunning, distinctive property is a study in impeccable craftsmanship, elegance and design where enduring style and intrinsic value are the legacy. As promised by Shehan Silva, GM of NPHD, "We are committed to giving the best possible home under the sky, using the best available technology, products and professional service. We have left no stone unturned."
The selling price of the almost complete residential complex starts from MVR.3.9 million.
To arrange a site visit or a meeting with a representative from Aqua Vita, register here.