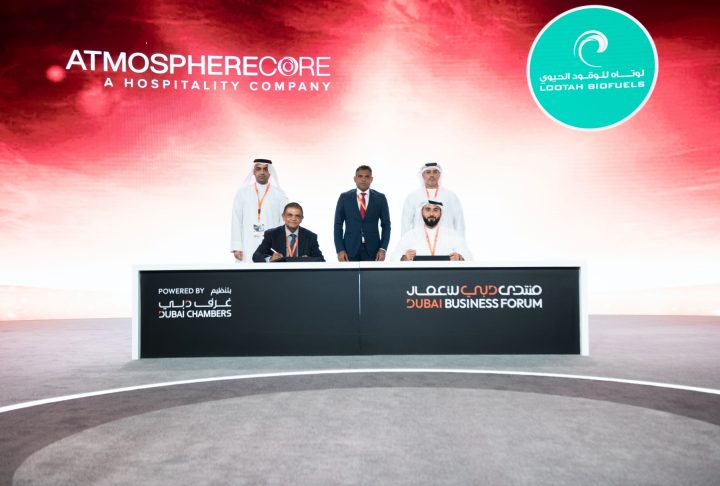 Atmosphere Core, Dubai's Lootah Biofuels ink MoU for biofuel production in Maldives
Leading Maldives-based hotel group Atmosphere Core on Thursday signed a Memorandum of Understanding (MoU) with Lootah Biofuels to produce and supply biodiesel and provide waste cooking oil recycling services in the Maldives.
The deal was inked during the second day of the Dubai Business Forum, an influential global gathering of businesses and investors held from Wednesday to Thursday at Madinat Jumeirah in Dubai.
The agreement was signed in the presence of Faisal Naseem, Vice President of Maldives, Faisal Juma Khalfan Belhoul, Vice Chairman of Dubai Chambers; and Mohammad Ali Rashed Lootah, President and CEO of Dubai Chambers.
The MoU was inked by Yousuf bin Saeed Lootah, CEO of Lootah Biofuels, and Ismail Hilmy, Chairman of Atmosphere Core.
"As one of the countries that has been adversely affected by environmental issues, the objective of the MoU is to reduce the impact of CO2 by replacing normal diesel with biodiesel. The agreement also supports the collection and recycling of used cooking oil from luxury resorts, hotels, restaurants, and households to produce biodiesel in the Maldives," Lootah Biofuels said in a statement.
"With the UAE poised to host the COP28 climate summit, the agreement supports the country's ambition to become a leading global hub for sustainability and the circular economy, as well as Dubai Chambers' drive to promote the overseas expansion of local companies. The MoU will also play a key role in supporting the Maldives' target to achieve net-zero emissions by 2030."
Valued at $15 million, the Dubai-based Lootah Biofuels was established in 2010 to address the growing demand for sustainable and environmentally friendly fuel alternatives. In line with the UAE's vision for sustainable development and the circular economy, the company is committed to innovating and introducing sustainable long-term solutions for energy requirements. Lootah Biofuels collects used cooking oil – which is considered a waste material for households, hotels, and restaurants – and recycles it to produce green biofuel (biodiesel).
The agreement was signed as part of The Deals Hub, a dedicated impact-driven platform for global business leaders and investors to forge and announce major business initiatives, partnerships, investments, and commercial alliances during the Dubai Business Forum. An innovative initiative that reflects Dubai Chambers' commitment to driving growth in international trade and investment, The Deals Hub further consolidates Dubai's position as a leading global city for doing business.
Hosted under the patronage of Sheikh Mohammed bin Rashid Al Maktoum, Vice President and Prime Minister of the UAE and Ruler of Dubai, the Dubai Business Forum brings together key stakeholders from the government and private sectors across the globe to explore strategic economic partnerships, develop international networks, and open new horizons for business, trade, and investments.