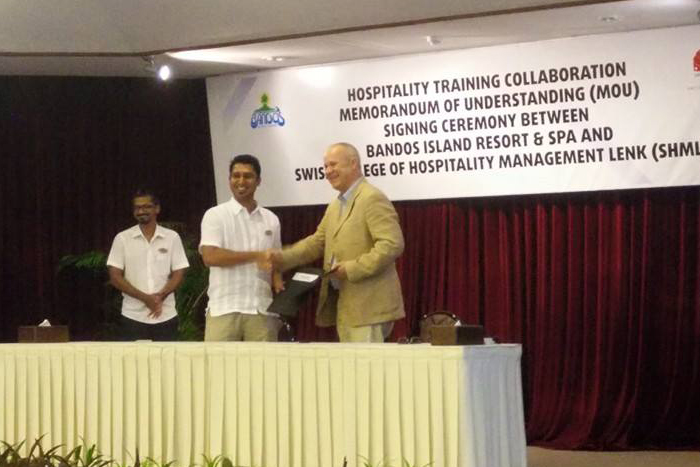 Bandos Island Resort to launch apprenticeship training programme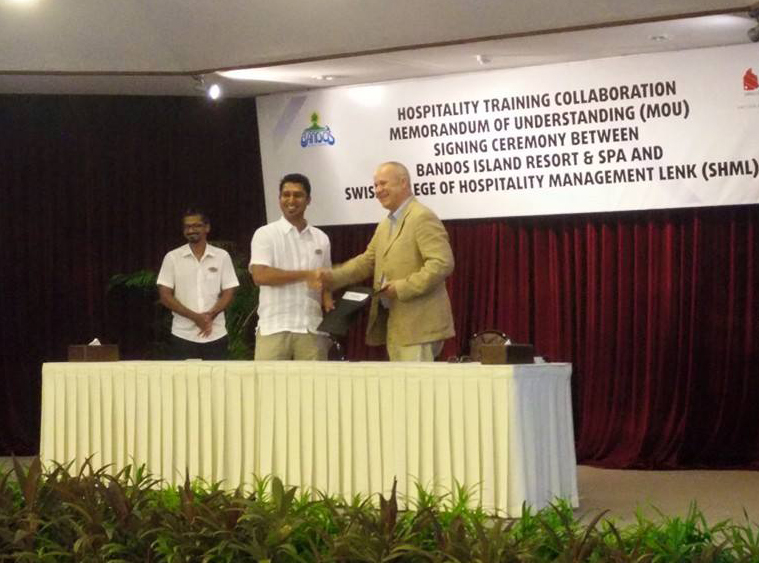 Bandos Island Resort and Spa has signed a Memorandum of Understanding with the Swiss College of Hospitality Management Lenk (SHML) to conduct an apprenticeship programme.
At a ceremony yesterday, Bandos Resident Manager Ismail Rasheed signed the MoU on behalf of the resort while SHML CEO Urs Uberhardt signed on behalf of the boutique hotel school.
According to local media, the resort is seeking 30 participants between the ages of 16 and 20 for the 'Bandos Apprenticeship Programme,' due to begin in August.
SHML would be conducting the programme free of charge whilst the resort would bear expenses for participants.
Speaking at the ceremony, Uberhardt reportedly said SHML has successfully conducted a similar training programme in Indonesia.
Participants are to be chosen based on merit following an interviewing and evaluation process that weighs a candidate's level of interest in pursuing a career in the tourism industry.
Senior officials from SHML and Bandos would travel across the country to choose participants.
At least five participants would be guaranteed jobs at the resort upon completion of the programme whilst the rest would have opportunities to seek employment in other resorts or hotels.
During the first three months of the programme, participants would be taught tourism theory and resort operations, after which students would have the opportunity to choose a specialised area of study in hospitality or tourism management.
Participants would also have the opportunity to pursue higher education at SMHL with a 20% discount on tuition fees if they enrol through Bandos.
Bandos Island Resort meanwhile plans to establish a hotel school in the Maldives in association with SHML to offer diploma and degree courses.
SHML is Switzerland's first boutique hotel school, established to prepare students for a hospitality career based on the operating philosophies of luxury International boutique hotels and resorts. Students live, study and practice in a fully equipped hotel in Bern together with lecturers who also live on campus.