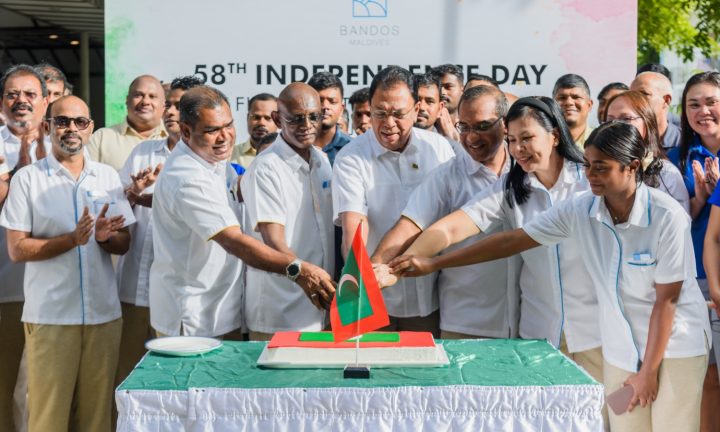 Bandos marks Maldives' 58th Independence Day with flag hoisting ceremony
Bandos Maldives marked the 58th Independence Day of Maldives with a grand flag hoisting ceremony on its picturesque premises on Wednesday. The event was attended by guests, staff, and dignitaries who gathered to honour and celebrate the historic milestone of the Maldives' independence from British rule and its emergence as a republic in 1965.
The ceremony, held with great enthusiasm and patriotism, began with the majestic hoisting of the Maldivian flag. Standing tall amidst the azure blue skies and shimmering waters, the flag served as a symbol of the nation's sovereignty and resilience.
Arusal Noorie, the Deputy General Manager of Bandos Maldives, delivered an inspiring speech on the historical significance of the day. He highlighted the remarkable journey of the Maldivian people, their struggles for independence, and their determination to chart their own course as a sovereign nation. Noorie emphasised the importance of unity and continued progress to honour the sacrifices made by the country's forefathers.
The event continued with the soul-stirring rendition of the Maldivian national anthem, evoking a sense of pride and patriotism among all attendees. The harmonious voices resonated with the natural beauty of the surroundings, creating a heartfelt and emotional atmosphere.
Following the anthem, the guests and associates joined together for a special cake-cutting ceremony. The cake, beautifully adorned with the colours of the Maldivian flag, symbolised the sweetness of freedom and the joy of independence.
Bandos Maldives took this opportunity to express its gratitude to the guests and associates who have been an integral part of its journey. The resort's commitment to providing an unforgettable experience for its visitors aligns with the essence of Independence Day – the freedom to explore, discover, and enjoy the splendours of the Maldives.
As the ceremony came to a close, Noorie thanked everyone for their presence and participation in the commemoration of this significant day. He expressed his hope that the spirit of independence would continue to thrive in the hearts of all Maldivians, propelling the nation towards a brighter and prosperous future.
The 58th Independence Day celebration at Bandos Maldives was a powerful reminder of the nation's enduring spirit and its unwavering commitment to progress and unity. With the memory of this event etched in their hearts, the guests and associates departed, carrying with them a deeper appreciation for the rich history and heritage of the Maldives.