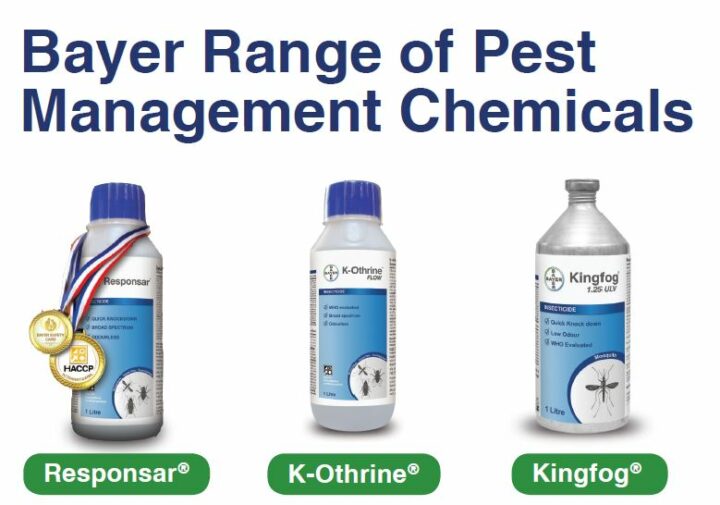 Bayer range of pest management chemicals
Bayer Advanced lawn and garden products take the guesswork out of application and gives ways to effectively protect and nurture your lawn, garden and home with less effort.
Bayer's one-step solutions make it easy to feed and protect lawns, trees, shrubs, roses and flowers through every season and every stage of development.Responsar®
Responsar® is an insecticide with broad spectrum activity for management of insect pests like mosquitoes, house flies and cockroaches.
– All in one solution for every day household pest control
– Better residual performance on various surfaces
– No organic solvents hence very low odour
– HACCP Certified and suitable for food and non-food areasK-Othrine®
K-Othrine®  Flow 25 is ideal for effective control of cockroaches, houseflies and mosquitoes in households as a residual spray on surfaces and for bed net impregnation to protect against adult mosquitoes.
– Broad spectrum activity
– No organic solvents
– Effective in low dosages
– Non-greasy and non-staining
– HACCP Certified and suitable for food and non-food areasKingfog®
Kingfog®  1.25 ULV is effective for the control of flying pests like mosquitoes and houseflies by thermal or Ultra Low Volume fogging.
– Effective against vectors of human diseases such as Anopheles, Culex and Aedes
– Extremely low dosage needed
– Useful during epidemic situations
– Certified with BIS ISI markBayer range of pest management chemicals is distributed in the Maldives by Pesterminators Pvt. Ltd.