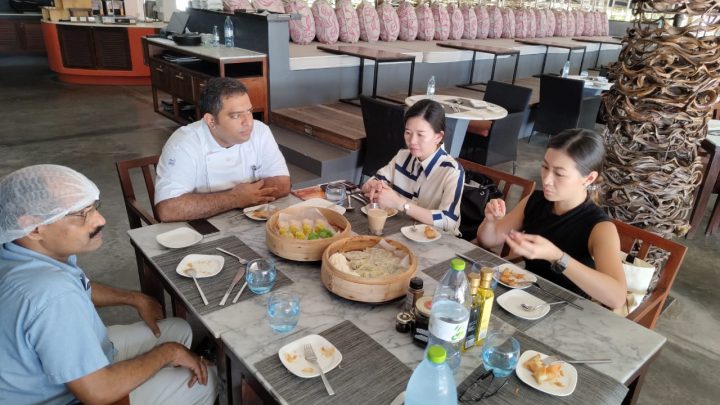 BBM, Vismark elevates culinary experiences in Maldives resorts with product demonstrations
Singapore-based Vismark Food Industries Pte Ltd, a renowned leader in food supply solutions, recently embarked on a successful venture to enhance the culinary landscape of the Maldives. In partnership with Bestbuy Maldives (BBM), a distinguished provider of quality FMCG products in the Maldives, Vismark hosted a series of captivating product demonstrations for the culinary teams of leading luxury resorts in the Maldives. The visit, which took place from July 11-17, aimed to strengthen Vismark's brand presence while imparting valuable knowledge on the latest trends in Chinese cuisine to resort-based chefs and culinary professionals.
With its longstanding presence in the Maldives for over a decade, Vismark has earned a reputation for delivering high-quality products and authentic Southeast Asian flavours. BBM, the trusted representative of Vismark in the Maldives, has played a vital role in establishing this partnership. Vismark's remarkable growth over the years has elevated it to become one of Singapore's largest food suppliers, exporting its products to over 20 countries.
The visiting Vismark teams not only showcased their exceptional product range but also facilitated knowledge exchange and provided valuable insights to the culinary experts of luxury resorts. The convenience and quality offered by Vismark's products were highly appreciated by the resort chefs.
"Resorts appreciate the quality and ease of product preparation with least time," said Hassan Didi, Executive Chef at Sun Siyam Olhuveli resort. "I have been serving Vismark products for about a decade. While being extremely authentic for their Southeast Asian taste and flavour, I find great ease and convenience in preparation. Dumplings, Spring rolls, Samosas, Paus, Mexican wings, Wanton – they maintain uniformity of shape and size as well, which is a great plus."
Steve Tan, Director of Sales and Marketing at Vismark, expressed pride in the company's strong partnerships with key players in the global industry. The exclusive partnership with Bestbuy Maldives has been particularly successful in expanding Vismark's market coverage in the Maldives. Tan emphasised Vismark's commitment to strengthening the relationship with BBM, ensuring that resort customers receive the highest quality products and services. This dedication to excellence sets the stage for a long and prosperous partnership between Vismark and BBM.
With its recent product demonstrations in the Maldives, Vismark has once again showcased its dedication to elevating culinary experiences. As the demand for Southeast Asian and Chinese cuisine continues to grow in Maldivian resorts, Vismark remains optimistic about the opportunities that lie ahead.