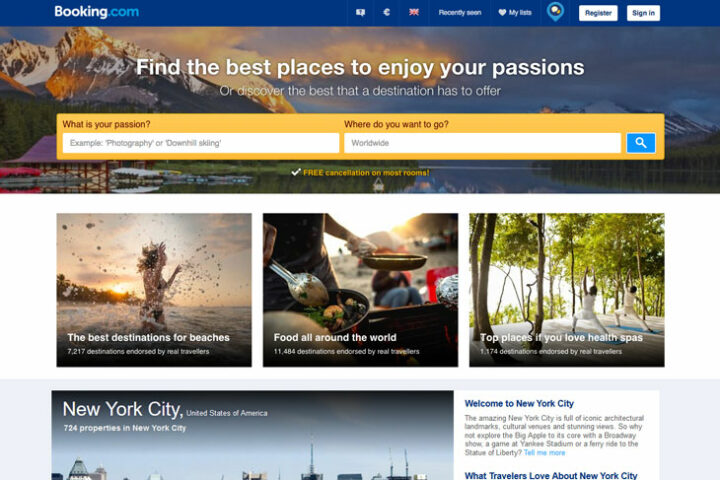 Booking.com launches 'Passion Search'
Online travel agency Booking.com has launched a new feature to help travellers search and discover destinations based on their passions.
The 'Passion Search' platform includes over 200 initial 'Passions' to search from, and features over 1000 destinations with rich content that mixes curated expertise, real reviews  and insights from the website's base of travellers. The new feature also offers destination recommendations and local insider guides, providing travellers insight into the best hot spots to visit.
The website's 'Destination Finder' draws information from over millions of recommendations offered by its extensive global customer base, and matches travellers with the best destination and accommodation to suit their passions and interests.
"Booking.com is not just about a transaction. We are all about the experience. We can certainly help people find the perfect spot – whether it's a hotel, a villa or an apartment – in any city or local town in the world.  But what about the people who have a passion but don't know where to go? Now we have created technology that can unearth the perfect destination – anywhere in the world – tied to the passions of our customer base," said David Vismans, Chief Product Officer at Booking.com.
"Our aim is to connect every traveller with those possibilities which perfectly match their personality, desires and ambitions."
Booking.com™ is owned and operated by Booking.com B.V., part of the Priceline Group. Established in 1996 and based in Amsterdam, Netherlands, Booking.com B.V. is supported internationally by 174 offices in over 70 countries around the world. Each day, over 1,000,000 room nights are reserved on Booking.com. The Booking.com website and apps attract visitors from both the leisure and business sectors worldwide and guarantees the best prices for any type of property, from small, family-run bed and breakfasts to executive apartments and five-star luxury suites. Independent accommodations are also specifically a focus of Villas.com, a sister site recently launched by Booking.com. Truly international, Booking.com is available in more than 40 languages, and offers 865,683 active properties in 224 countries and territories.