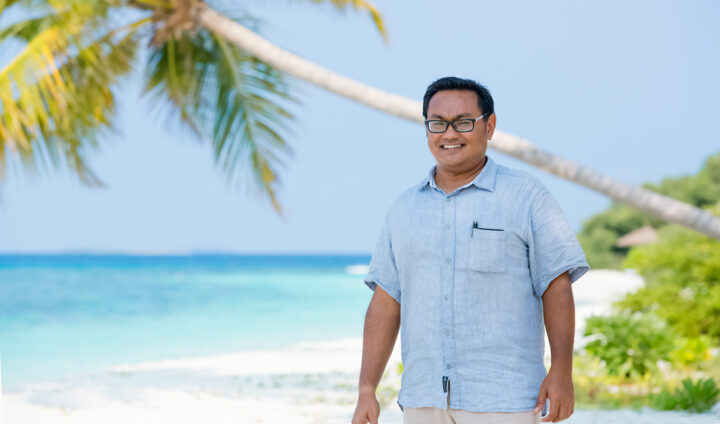 Careers: Haleem Lye – Operations Manager at Reethi Faru Resort
Haleem Lye is a passionate hotelier with about 20 years of experience in the industry. Haleem Lye's career in the hospitality sector began when he joined the Taj Samadura, Colombo Sri Lanka right after completing his Diploma in Hotel Management at the International Hotel School at Mount Lavinia Hotel, Sri Lanka. He is currently the Operations Manager at Reethi Faru Resort (RFR). And before taking on his current position, he has fulfilled many roles including that of a front office assistant, assistant manager front office, shift leader, front desk manager, front office manager, manager on duty, resident manager and resort manager.
Now an integral part of the top management team of Reethi Faru Resort, Haleem Lye is responsible for effectively managing the daily operations of the hotel, demonstrating visible operational leadership and management to the hotel guests and associates and forecasting hotel revenue and cost with an emphasis on operations.He is also a part of many management initiatives that focus on improving work and team related aspects of the hotel.
Haleem joins Reethi Faru Resort after serving as Resort Manager and General Manager in absence of a GM at Amari Havvoda, Maldives. Speaking about his new role he said: "I am delighted to take on this new role with Reethi Faru Resort, which is a new property that I hope becomes a landmark and benchmark in the Maldives hospitality industry. I will be working closely with our team on developing this property, and it's certainly exciting to be a part of this new project."Haleem has worked for different hotel brands such as PARKROYAL Singapore, Meritus Pelangi Resort Malaysia, Mandarin Orchard Singapore, Holiday Inn Orchard City Centre Singapore, Holiday Inn Colombo Sri Lanka and many more. According to Haleem he is motivated to stay in Asia as Asian hospitality, with its balance of high style and traditional hospitality, is close to his heart. Haleem's extensive experience has seen him conduct training programmes for the enhancement of guest services. During his tenure at Mandarin Orchard Singapore he played a vital role in assisting the hotel to enhance the occupancy and the rev par. Being a Certified Trainer from the Singapore Workforce Development Agency (WDA), he has also assisted the Director of Training at PARKROYAL Singapore to identify training gaps by conducting training needs analysis study to enhance and maintain consistent service standards.Having worked for different hotel brands with different images and possible different target markets, Haleem notes he was prompted to work for Reethi Faru Resort as he feels he will be able to make a difference and a significant contribution its brand development.He also added on his role in key challenges faced in marketing the new property. "We are positioning this new property within the travel market and putting ourselves in front of key buyers in the industry by exhibiting at the Internationale Tourismus-Börse Berlin, the World Travel Market and many more."
Haleem has been on board since the inception of Reethi Faru Resort, which saw its first guests arrive in December 2017. Reethi Faru Resort is among the two properties owned and operated by Mahogany Pvt Ltd, the company that runs the four star Reethi Beach Resort in the UNESCO Biosphere Reserve of Baa Atoll.
According to Haleem, the work environment, the organization culture and the tasks he takes on as a member of the team are some of the most interesting aspects related to his job at Reethi Faru Resort. "With the tourism industry in the Maldives expanding faster than we anticipated, we need the infrastructure to support the industry however we also need to develop human capacity. While we have dynamic staff, there are opportunities to grow the labour force," says Haleem.
Haleem believes in having the right attitude. "The right attitude is the best quality an employee can possess. In the service sector and wider hospitality industry, a person with a good attitude is good for customers and co-workers alike." According to him working in the hospitality industry is thoroughly enjoyable, and as of now he remains motivated on his present job to achieve his ultimate goals.
"Working in the hospitality industry is not a job, it's a lifestyle. Passion and genuine interest are crucial components for success… The majority of the time the hospitality industry is about hard work and long hours. Passion and genuine interest are the bases for personal excellence in the Reethi Faru Resort workplace," he says.