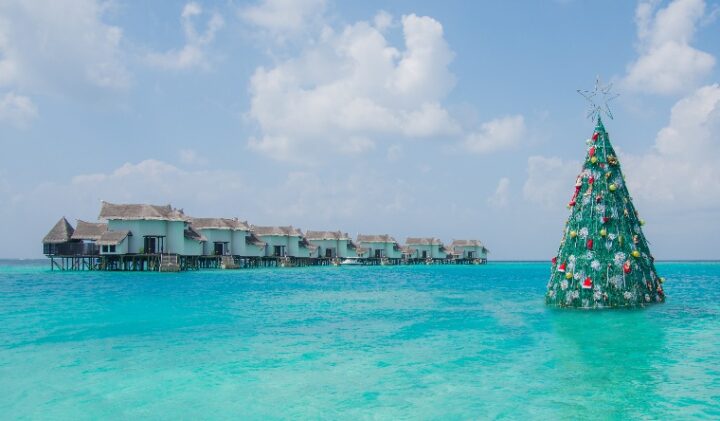 Celebrate 'Fire and Ice' at Jumeirah Vittaveli
Celebrate the festive season at Jumeirah Vittaveli this year and enjoy spectacular live entertainment, lavish gala dinners and plenty of activities to keep the children entertained. Events will start on 22 December when the resort's annual surprise festive tree is unveiled and will conclude on 6 January with the Russian Christmas Eve.
The resort's Festive Island Celebration offer includes complimentary luxury catamaran transfers when five or more nights are booked. Guests can enjoy live acts including a modern string trio ensemble, cabaret performances, belly dancers, DJ nights and a live band.
Amit Majumder, General Manager, Jumeirah Vittaveli, said: "This year our loyal guests can enjoy family friendly activities, romantic dining experiences and lavish gala dinners, all set in a tropical island that promises to mesmerise guests with the fire and ice theme. Anyone looking for a detox can also book a specially tailored programme by Talise Spa. "
"Active guests can try pedal boats, stand-up paddle board competitions, or charter their own luxury yacht for an adventure on the sea, courtesy of Best Dives. The Dive Centre will also initiate the resort's first coral adoption programme through which guests can actively contribute to the maintenance and protection of the beautiful coral reefs of the Maldives."
Celebrations on 22 December will start with the festive tree lighting ceremony and daily live acts will continue the festive spirit. Families and couples can watch the resort's fire dancers perform the Art of Poi, admire the resident sand artist's images and sculptures, dance the night away to the sounds of the DJ on the beach or the show stopping string band.
Santa will deliver gifts to children, who can also participate in activities at the resort's Kuda Koli Kids Club, such as building an ice cone festive tree or the Kuda Koli Olympics. A fireworks display will mark the end of 2016, for a picture perfect New Year's in the Maldives.
Culinary treats will include the three world best black caviars – Beluga, Ossetra, and Sevruga, as well as a selection of fine oysters such as the Belon Oyster from France, the Gallway Oyster from Ireland and the Tsarskaya Oyster from Cancale in Northern France. Fresh White Alba Truffle will be shaved onto gourmand's plates by the Chef at Fenesse, and guests at MU Grill can savour exotic delicacies such as Wagyu grade 9++ Marble beef, Kangaroo tenderloin and crocodile tail. The main restaurant Samsara will serve venison filet, petit tournedos of turkey, rabbit soup, baby Barramundi, and traditional steamed pudding. Young guests can indulge in Santa lollipops, gingerbread cookies, and chocolate puzzles.
The Russian celebrations will end the festive season on 6 January. The traditional 'Father Frost' or 'Ded Moroz' will visit children on 31 December, together with his assistant Snegurochka. The Russian celebrations will include a spectacular LED Dance, fire show, live dance performances and a beach party.