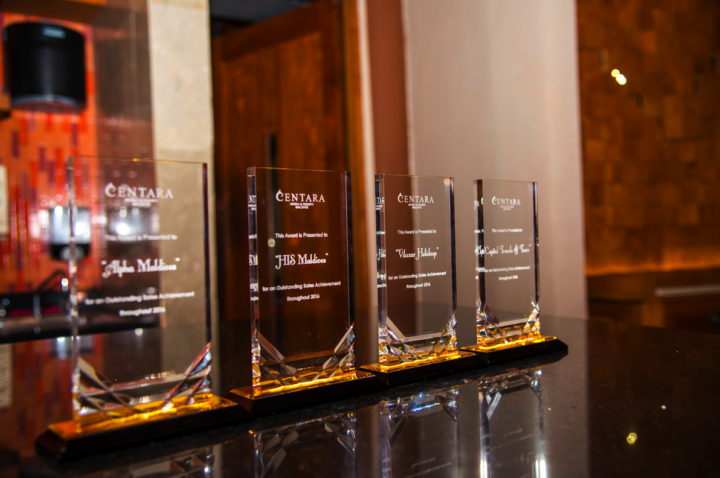 Centara celebrates top seller DMCs with award night
Centara has held a special function to commemorate the contributions of its top local Destination Management Companies. The DMC Top Seller Awards night – held at Centara Ras Fushi Resort and Spa Maldives – saw the presentation of awards to the top 10 travel agencies of the two properties in the Maldives; the Centara Grand Island Resort and Spa Maldives and Centara Ras Fushi Resort and Spa Maldives.
The Top Seller for Centara Grand was awarded to Trav Maldives Pvt. Ltd., while the Top Seller award for Centara Ras Fushi went to Reollo Travel – operated by Reollo Enterprises Pvt. Ltd. Nicha 'May' Duanglaithong – Sales Manager for Centara in the Maldives spoke highly of the contributions of DMCs to the properties and said: "The hospitality industry is a relationship-based market. At the end of the day, it's not all about business, but building strong bonds and relationships with your partners, that are mutually beneficial for both parties."
The function also saw Outstanding Sales Performance awards presented to;
Alpha Maldives Pvt. Ltd.,
H.I.S. Maldives Travels Pvt. Ltd.,
Capital Travels and Tours Pvt. Ltd., and
Viluxur Holidays Pvt. Ltd.
Centara also gave away Top 10 Sales Performance awards to;
Inner Maldives Holidays Pvt. Ltd.,
Travelers Street Pvt. Ltd.,
Crown Tours Maldives – operated by Crown Company Pvt. Ltd., and
Vista Company and Travel Services Pvt. Ltd.
"We at Centara are very personalized in terms of our mentality, and the way we do business. It is a core principle at Centara to appreciate our partners, and their contributions," May said. "We want to keep a close working relationship with our partners, and to assure them that we are always there for them, especially when it comes to meeting special requirements of guests."
Centara Hotels and Resorts – a Thai-based brand operated by The Central Group – operates two properties in the Maldives, in addition to properties in Vietnam, Sri Lanka and all major cities of Thailand. It is currently working on opening new properties in the Middle East and China.