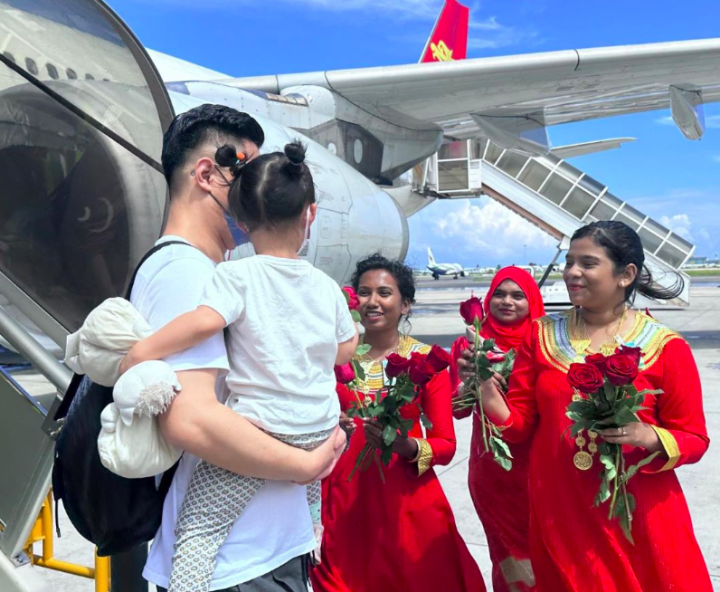 Chinese Tourists Arrive in Maldives After 3 Years
After a three-year hiatus because of the COVID-19 pandemic, the Maldives welcomed the first tourists from China today. The flight, operated by Beijing Capital Airlines, arrived around 12:45 PM with 198 Chinese tourists. Tourism Minister Dr. Abdulla Mausoom and Managing Director of Maldives Maldives Public Relations Corporation (MMPRC) Thoyyib Mohamed welcomed the tourists.
On January 8, 2023, the Government of the People's Republic of China ended Covid-19 restrictions for travelers. Returning travelers to China will no longer need to quarantine. Instead, a negative COVID test within 48 hours of departure will be required.
Beijing Capital Airlines was the first Chinese airline to operate flights to the Maldives since March 2020. Within the next month, the airline plans to operate four chartered flights to the Maldives. China Eastern will begin scheduled flights on January 28, with flights every Saturday.
Prior to the pandemic, China was Maldives' largest source market, with 284,029 tourist arrivals in 2019, representing a 17% market share. China quickly became and remained the Maldives top source market in 2010 with the introduction of direct flights between China and Maldives.
Minister of Tourism, Dr. Abdulla Mausoom recently said that the number one position of the tourist market of the Maldives needs to be returned to the Chinese tourist market. Dr. Mausoom is estimating 100,000 tourist arrivals from China to the Maldives this year.
Featured Image: Twitter