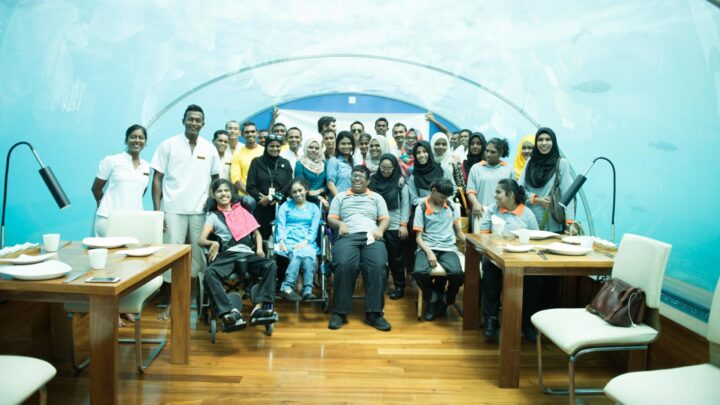 Conrad Maldives Rangali Island participates in Hilton Worldwide's largest Annual Global Career Initiative
Conrad Maldives Rangali Island has taken part in Careers@Hilton Live: Youth in Hospitality Month, Hilton Worldwide's global career event.
On 14 May, the resort hosted tourism and hospitality students from Dhigurah and Fenfushi for a day at the resort. Team Members discussed their industry career paths with students and invited them see live demonstrations of housekeeping, kitchen and engineering. The day ended with a special afternoon tea hosted by the resort's general manager and department heads.
On 21 May, the resort welcomed young adults from Care Society Maldives, a non-governmental organisation that aims to aid and assist those with disabilities integrate into the workforce. The day's events included an island tour and live demonstrations in key departments which was followed by an art sale featuring works by the students of Care Society. The artwork was purchased by Team Members which resulted in a USD 1,000 donation to the NGO.
Speaking about the event, General Manager Lyle Lewis said: "In 2015 the World Travel and Tourism Council reported that travel and tourism employment in the Maldives directly supported 47,500 jobs (30.2 per cent of total employment) and this is expected to rise to 53,000 jobs (29.8 per cent of total employment) in 2026, thus fostering youth and career development within the Maldives remains top of mind for Conrad Maldives." He continued, "Careers@Hilton Live lets us introduce young people in our communities into the industry. Their ideas and passion will lead to our collective success."
As part of Careers@Hilton Live, Team Members around the globe were invited to take part in a Hilton Worldwide Instagram competition to share the perks of a career in hospitality.  A submission by Conrad Maldives Recreation Agent, Mohamed Riyaz (@myhooriyaz) was chosen as one of the global winners.
Careers@Hilton Live: Youth in Hospitality events are a unique opportunity for Hilton Worldwide Team Members to inspire job seekers about careers in the hospitality industry, and to support them by providing guidance on the skills that are vital to succeed in the workplace and beyond.
For more information on the Careers@Hilton Live, visit: www.hiltonwordwide.com/youth.