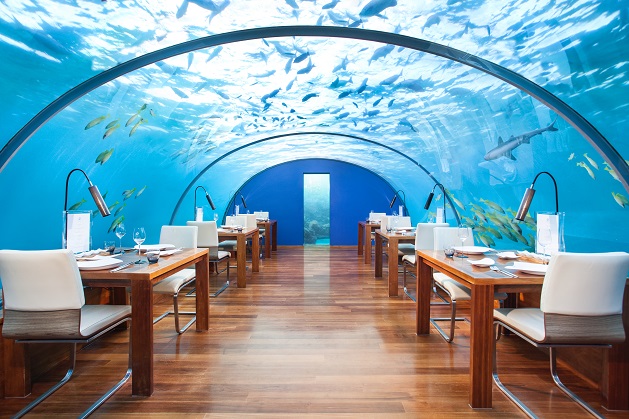 Conrad Maldives to welcome world-class chefs, winemakers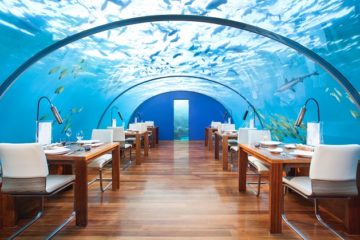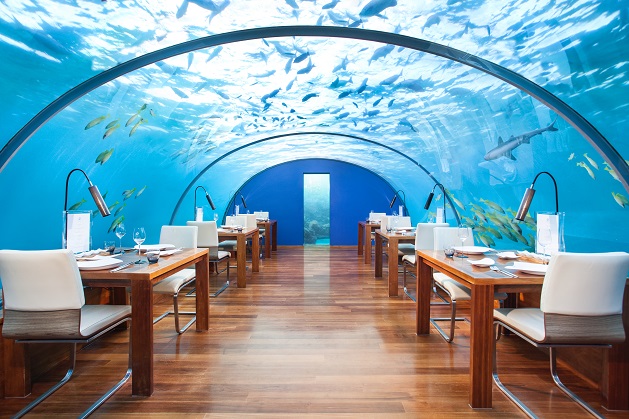 Some of the world's best chefs and winemakers are due to arrive at the Conrad Maldives Rangali Island this year to offer guests at the luxury resort an unparalleled dining experience with their gourmet gastronomy.
 "A food destination of firsts, being the first to understand that a remote location need not prohibit fine dining and good wines, the resort continues to tantalise guests' taste buds with the best food and wine experiences not seen before in the country," reads a press release by Conrad Maldives last week.
 "Whether it's sipping handpicked wine presented by biodynamic burgundy pioneer Vincent Giardin, enjoying a teppan dinner of fresh lobster under the stars at Koko Grill presented by Conrad Tokyo teppan Chef Nobuyasu Kamiko  or crossing the bridge of Chinese Art and French Wine at Ufaa by Jereme Leung; these are tempting experiences worth travelling for."
 Conrad noted that Rangali's Ufaa restaurant, the Maldives' first authentic Chinese restaurant, has been handpicked to become the islands nation's first Krug Ambassade restaurant.
 "Ufaa joins an elite international network of exceptional restaurants including the UK's iconic Fat Duck and Murano, Dinner at The Mandarin Oriental and l'Hôtel Georges V in Paris. Leung's carefully crafted authentic and contemporary Chinese flavours featured are a perfect complement to Krug Champagne's philosophy of quality and timeless taste preferred amongst luxury travellers. Krug Grand Cuvée will be available by the glass and the bottle," reads the press release.
 Meanwhile, Nobuyasu Kamiko, head Japanese chef at Conrad Tokyo's renowned Kazahana restaurant, will showcase his culinary flair from March 2 to 15, 2015 at Conrad Maldives' beach-front teppanyaki restaurant Koko Grill.
 "Complemented with matching sake by Conrad Maldives head sommelier Kamal Malik, the eight-course menu is a must-try for the gourmet traveller and combines elements from Kamiko's Japanese cuisine such as scallops wrapped with bamboo leaf and grilled lobster with shiro-miso denaku," Conrad explained.
 Conrad revealed that the price for the one-off experience would be $250 per person. The meal includes eight courses and a glass of sparkling sake.
Following closely behind Chef Kamiko, top burgundies from fine wine producer Vincent Giardin would be showcased alongside a five-course dinner at The Wine Cellar on March 30, 2015, priced at $295 per person.
"Another five-course dinner with Vincent Giardin-paired burgundies is planned at over-water restaurant Mandhoo on April 2 for $255," the press release continued.
"Both evenings will be hosted by Marco Bruno Caschera, Brand Ambassador of the Vincent Giardin estate. With winemaking in his blood after being born into a family who have produced wines since the 17th Century, Vincent prides himself on producing biodynamic fine wines with no pesticides, chemical fertilizers and weedicides."
Conrad noted that Caschera harvests by hand and demands a high standard, which sets him among the best in the world.
Lastly, on April 18, 2015, Ufaa welcomes Jereme Leung for the first winemaker dinner in collaboration with boutique winery Pont Des Arts, an exclusive, limited collection of wines created with the support of the finest winemakers from France and greatest artists from China.
"Presented by Thibault Pontallier one part of the duo behind Pont Des Arts, Pontallier, son of Paul Pontallier, Managing Director of Chateau Margaux will present a selection of  wine from Bordeaux and Burgundy with vintages ranging from 2010  – 2012. Each vintage features art from renowned Chinese artists Zao Wou – Ki and contemporary artist Yue Minjun," the press release stated.
Conrad Maldives Executive Chef and Ufaa namesake, Jereme Leung, would expertly match the wine to a specially designed menu. The cost of the dining experience would be $275 per person.