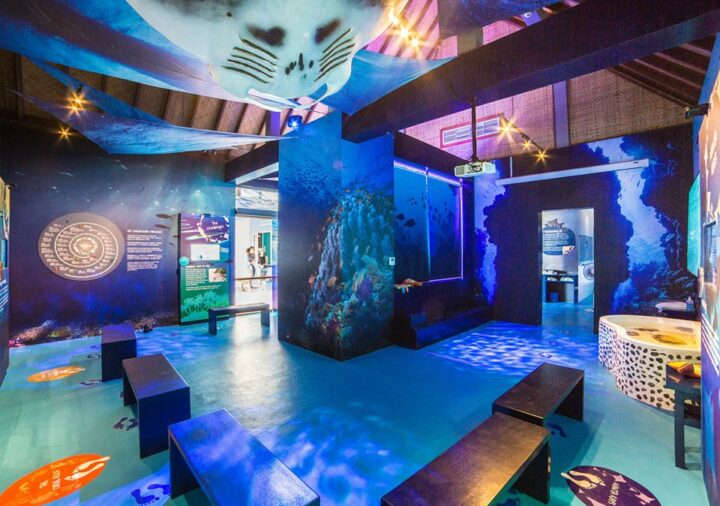 Conservation projects centred at the Marine Discovery Centre at FS Landaa Giraavaru
Four Seasons Resorts Maldives at Landaa Giraavaru has unveiled a completely reimagined, restructured and redesigned Marine Discovery Centre.
The new interactive, state-of-the-art tribute to its ocean conservation initiatives showcases the fish lab, turtle rehabilitation centre, Reefscapers coral rejuvenation programme and the Manta Trust research station – all within one of the most comprehensive oceanic research and education centres in the Maldives.
Big screens, inspiring Prezi presentations and displays cover topics such as sinking islands and global warming, with guests invited to join orientation sessions or explore in detail at their leisure.
With more than 15 marine scientists and researchers working on marine conservation projects across Kuda Huraa and Landaa Giraavaru, Four Seasons is at the cutting edge – and caring heart – of ocean safeguarding in the Maldives.
To date the Resorts have transplanted nearly 300,000 coral fragments onto close to 5,000 coral frames; bred hundreds of thousands of reef fish; rescued over 149 sea turtles, rehabilitating and returning the vast majority to the ocean – 25 with satellite tags – as well as rehoming a historic 4 in overseas facilities; and contributed to global initiatives and achievements through the support of The Manta Trust and symposiums such as the Landaa Giraavaru Declaration.
Marine Savers is the marine conservation team at Four Seasons Resorts Maldives.