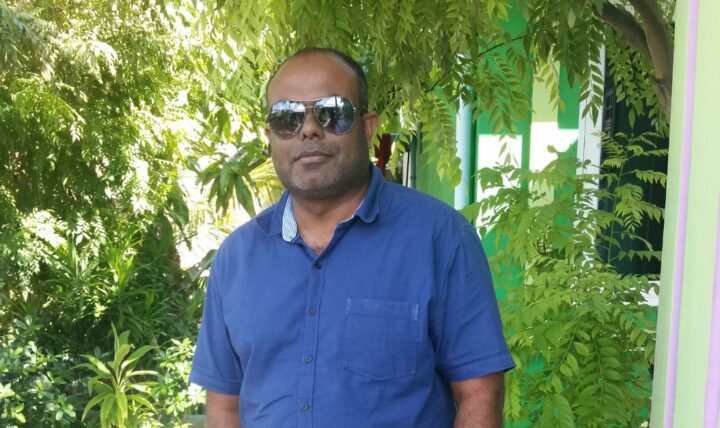 A Day in the Life of Ahmed Fizam
Ahmed Fizam has been working in the hospitality industry for over two decades. He started his career in 1994 at Paradise Island Resort. He joined Shangri-La's Villingili Resort & Spa in 2009 as a Senior Supervisor at the Laundry and is today the Laundry Manager.
Originally from Meedhoo in Addu City, Fizam is not only keen on ensuring a spot free stay for guests, but he is also actively engaged in community service, working as an eco-activist in his home island. As the Laundry Manager, Fizam is responsible for the laundry at the five-star property and oversees the duties and work of 18 staff.
0645 hrs. –   I wake up fairly early as the transfer to the resort from Meedhoo is at 0645. We arrive at around 0700. But the laundry will be operational since 0600.0900 hrs. –   My duty officially begins at 0900. My first priority is to catch up with emails to see if there are any urgent matters that need my attention. We then have a department briefing, where we discuss the day's work and tasks.
1000 hrs. –   After that, I do my rounds to ensure that all equipment is in order.I also take time visiting the uniform room and tailor room and check for supplies. In addition to the linens and guest's laundry, we also handle the staff uniforms.
1100 hrs. –   As the Manager, I believe one has to work very closely with their team. So I take time every day to actively work and assist my staff, especially if the occupancy is high.
1200 hrs. –   I take a short lunch break and I'm back to work 30 minutes later to relieve my staff for their lunch break.1330 hrs. –   In the afternoon, I take some time to tackle my paperwork. I have to log details of our tasks from the previous day and ensure that everything is well-documented.
1500 hrs. –   We hold a brief meeting once again to ensure our daily tasks are on track. And again I take over the laundry when my staff go on break at 1530.1600 hrs. –   I take a drive around to check the pantries located on the island. There are seven pantries, and my team ensures that bed linens, sheets and towels are all stocked and ready for our Villa Attendants.
1700 hrs. –   Its back at the laundry again to make sure that all guest laundry requests have been completed. After that, I check the duty for the next day and ensure all staff are informed. I also do a final check at 1800 to ensure that all equipment is shut down.
1815 hrs. –   My duty ends at 1800 and prior to that, I do one final check to ensure everything is in order for the next day. Then I catch the ferry home for some quality time with my family.