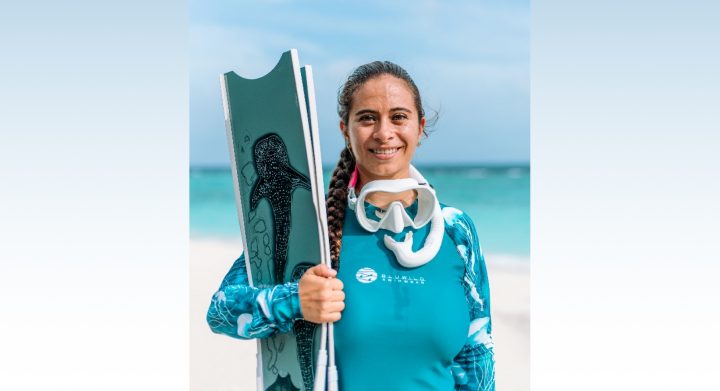 Diana Vergara Appointed Resident Marine Biologist at Vakkaru Maldives
Vakkaru Maldives Resort has appointed Diana Vergara as the new resident marine biologist to enhance guest experiences and the private island's marine biology programs.
Diana's role includes raising environmental awareness among guests and researching and monitoring the house reef and the coral around the island. She will also lead snorkeling excursions and give informational lectures on conservation for adults.
Assuming her new role, Diana said: "My goal at Vakkaru is to communicate, create awareness and share my passion with others and make them fall in love with this amazing underwater world. I'm so glad to be part of the team and look forward to working together to protect our ocean and nature, especially in the UNESCO Biosphere Reserve Baa Atoll. We will implement more marine education and activities for all guests, including kids. Even from simple steps, I always say, 'every seed counts'."
Diana studied marine biology, getting a Master's degree in Marine Biology and Coastal Environments from the Universidade Federal Fluminense (UFF), Brazil. The Colombian national is also an experienced scuba diver certified as an Open Water PADI and Project AWARE instructor. In addition, she is also getting certified as an instructor in Enriched Air Diver, Deep Diver, Digital Underwater Photographer, Wreck Diver, and Fish ID.
"For the past seven years, I've been working in marine biology, performing ecosystem monitoring (coral reefs, mangroves and seagrass), analysis of the benthic community, invasive species, coral gardening and photo identification of some marine animals in Colombia, Brazil and Maldives," says Diana, who has worked at several resorts in the Maldives.
"As our new resident marine biologist, Diana will play a big role in enhancing our guest experiences through a variety of programmes that raise awareness about the oceans and the need for their conservation," said Iain McCormack, General Manager, Vakkaru Maldives.