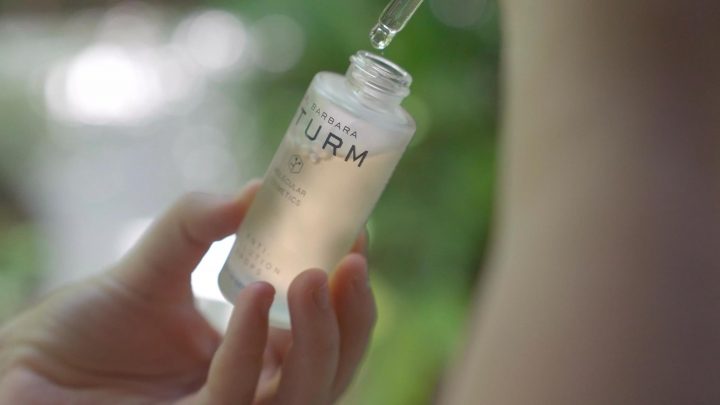 Dr Barbara Sturm launches exclusively in JOALI BEING
On the pristine isle of Bodufushi in Raa atoll, JOALI BEING- the first wellbeing island of its kind in the Maldives – will offer guests Dr Barbara Sturm's world-acclaimed non-surgical anti-ageing treatments and methods for rejuvenating the skin. Redefining the meaning of wellbeing getaways, JOALI BEING has worked closely with Dr Sturm to bring seven carefully selected signature treatments to the resort, where she is a regular visitor.
Treatments include the signature STURMGLOW™️ Facial – designed to nourish and awaken the skin and restore complexion's natural glow, Super Anti-Aging Facial – for replenishing moisture resulting in a smoother and more youthful complexion, Darker Skin Tones Facial – specially formulated for melanin-rich skin to help hydrate and calm skin, reduce hyperpigmentation and minimise pores, Brightening Facial to help refresh the complexion and even skin tone, Men's Facial which has been designed specifically to meet the needs and challenges of men's skin and Adult Acne Facial and Teen Acne Facial – to help with the treatment of blemishes and breakouts. Guests can also add micro-needling to their facials which stimulates the production of collagen.
Modern science and long-honoured traditions are at the heart of JOALI BEING to guide guests on a journey of self-discovery and renewal. A dedicated expert team of naturopaths, therapists and movement experts aims to work with guests every step of the way to help set intentions nurture and co-create moments of 'wonder and transcendence.'
The Four Pillars of JOALI BEING includes:
MIND: Cultivate contentment and peace of mind through sound therapy and mind and body practices
SKIN: Illuminate the skin with rejuvenating therapies that draw equally from timeless rituals and the world's most advanced research
MICROBIOME: Form a deeper understanding of the connection between body, mind and nutrition while building eating habits around the body's circadian rhythm
ENERGY: Rebalance the nervous system and optimise energy flow through intelligent movement practices and restorative therapies
Known for its transformative 360 wellbeing experiences, it offers a hybrid of healing and restorative practices alongside fitness and wellbeing experts paired with its unique transformative spaces – including hydrotherapy, movement and sound healing treatments – to help nourish guests from within. Likewise, Dr Sturm's philosophy is firmly built around an anti-inflammatory lifestyle which includes maintaining an anti-inflammatory diet and choosing skincare products rich in anti-inflammatory ingredients to replenish hydration and nutrition levels, promote telomerase activation and encourage exosome activity – key mediators in cell-to-cell communication that play pivotal roles in reducing inflammation during ageing.
"As a regular visitor to JOALI BEING, I know that we share the same philosophy when it comes to treating the skin, as such, this partnership came naturally to us. We understand the benefits and importance of leading an anti-inflammatory lifestyle and incorporating a skincare routine that focuses on healing and repairing," says Dr Sturm.
"My whole skincare philosophy is focused on combating inflammation and its consequences and healing the skin with advanced ingredient science and the anti-inflammatory lifestyle is the key for me. We are bombarded every day with inflammatory influences, from harsh skincare ingredients to UVA and UVB rays, stress, tailpipe emissions, HEV rays, smoking and drinking and sugar. If we learn what inflammatory and anti-inflammatory influences are, we can adjust our lifestyle accordingly. It will have both an immediate and long-term effect on skin ageing and your overall health. Adequate sleep, getting daily exercise, avoiding excess alcohol, sugar, fried and processed foods, and flour while eating anti-inflammatory foods like avocados, salmon, olive oil, tomatoes, nuts, dark berries and green tea are my constants for daily self-care."
JOALI BEING further offers wellbeing programmes ranging from five nights to three weeks designed around its key pillars curated for each guest and their needs through Intelligent Movement Analysis and Integrative Health Assessment. These can also be tailored towards areas of strength and vitality, mental clarity and wellbeing. hormonal balance, women's health, digestive and weight rebalance, restorative sleep as well as movement and alignment for good health and immunity.
Enver Arslan, Area General Manager for JOALI brand says: "Using our own tools, we can determine each area of improvement required to help build a robust wellbeing experience tailored to our guests – which also applies to their skin. This can range from a tailor-made fitness and mental wellbeing programme alongside a dedicated dietary plan. As soon as a guest checks in, we give them the option to take a wellbeing consultation to determine what can be done to help them on their improvement journey."