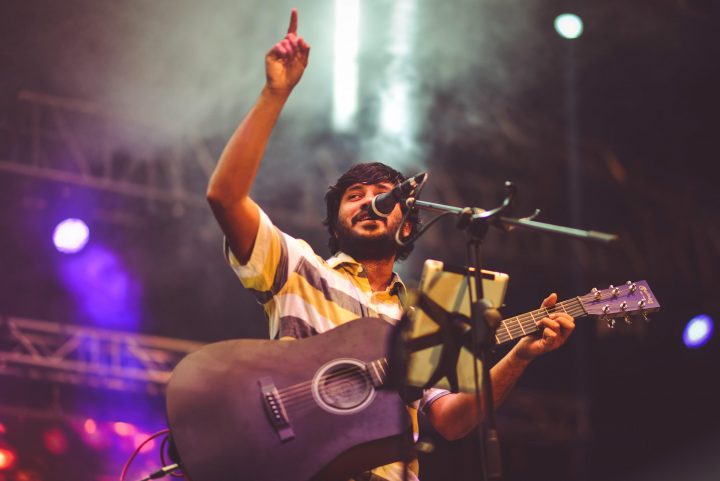 Emerging band, Equatic Vibe talks about its evolution on the Equator.
(with additional contributions by Donna Richardson and Lana Hafeez)
In a country where music is not encouraged as a career path, many artists are breaking this social stigma through dedication and utter devotion to their craft. This describes local band 'Equatic Vibe', winning the hearts of fans in the Maldives' five-star resorts as well as overseas for their catchy music and cheerful charisma.
Equatic Vibe has performed at the the world's largest travel fair ITB Berlin in Germany twice. They have also played at the Four Seasons, Crossroads, SAii lagoon, and Hurawalhi Maldives. However, Kuredu Island is still considered by the team as their second home and personal favourite. Lead singers Shammu and Ameen described the fond relationship between the staff members of the resort and love from guests as their mojo.
For this band born in the equator, their ultimate purpose is to create positive vibes and radiate happiness through their music. From jamming alongside school friends in 2004, and now their music is still full of the drive and ambition of those early years. Brothers Shammu and Ameen formed 'The Five', which gained popularity in Sri Lanka in 2010 before it evolved into 'Equatic Vibe'.
Shammu, the lead singer and the man behind the idyllic lyrics and sweet melodies while Ameen, bassist, Maby lead guitarist, Shinan drums and Husen, keyboards) collaboratively compose the songs. 
The band's performance at the 'Sanam show' in 2015 brought recognition and an overwhelming commendation from a mass audience in the company of international artists. During their first album recording, Equatic Vibe faced criticism at first, but once they had a local sponsor and were introduced to Chris Kling from Klangkantine studios in Berlin they recorded both albums and built a strong friendship.
This led to their first original album 'Kulathah' in 2016, featuring seven beautifully written and composed original songs performed in the native language of Dhivehi. The album was a gift to many music lovers waiting for original music from new age local artists.  
Kulathah was their first album and curated and choreographed by the band from A-Z. These self-taught musicians set benchmark for the audience from sounds to lights and visuals. 'Dhiyavaa odi' is said to be a surprise to many who 'boxed this band into a certain category' of music. Since then, they have received nothing but praise from local and foreign musicians.
These driven local musicians believe a band needs continuous nurturing and a mutual understanding. Punctuality is one of the main agreements among the team members. According to Shammu, the rule applies to a replacing artist. They have never missed a single gig and credit much of their success to their shared commitment, high morale and 'keeping a balance', it is performing or producing, personal or professional.
Equatic Vibe is one of the busiest bands in the Maldives, available for weddings to supporting social causes and local events. "We get the most fulfillment performing our own songs. The energy and the emotion mean guests feel the same and enjoy the music even if they don't understand a word," Shammu and Ameen added. Fans regularly sing along to their songs like 'Magey Raajje'. Another proud occasion was when Amir Ahmed school children's brass band covered their song 'Thitthimaa'
During the global pandemic, presented 'Quarantunes' with fellow musicians plus released their second album 'Magey EP' in 2020 with their first English song 'Paris' under the same record label. It is their dream to leave behind their lifelong work to contribute to future generations.  
Recently, at Nouvelle, Equatic Vibe performed a two and half hour-gig to a massive audience craving feel-good music in uncertain times. Fans sang along to the lyrics, dancing and having a good time. This is a gratifying experience say Equatic Vibe who believe that the industry tends to grow day by day. They also believe that love and appreciation for musicians will change the future of the music industry. 
Not limited to one genre and experimenting throughout, Equatic Vibe implied that they have about 30 new songs 'in the oven', with touches of retro music taking fans back to the disco era. The band who always seeks to do 'something new' for their fans, shared about a dream project to 'hop and play' in different islands reaching out to their beloved audience in corners of Maldives and support local tourism.