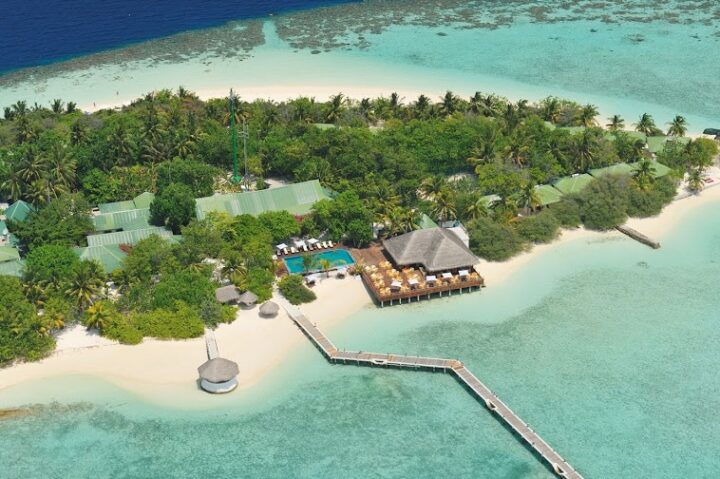 Eriyadu – Small Island, Big Dreams
A small, wedge shaped island lying in North Male Atoll, Eriyadu is blessed in several aspects; its house reef teeming with life, soft white sandy beaches, lush vegetation and its proximity to the airport and Male'. The island is frequented by repeat visitors and its house reef is a particular favourite among them. Its intimate nature can beguile any traveller, even those used to the lavishness of more upscale establishments.  Eriyadu's image has suffered in recent times, but it has made significant progress in turning around negative perceptions, thanks to a new management that is tirelessly trying to reform the property and elevate it to the fore of hotels in the atoll.
Eriyadu's essence lies in its staff's passion and loyalty towards the company. One such is Mohamed Rasheed, who has been with the resort for over two decades. "I came here in the mid-eighties, and there were only about forty rooms on the island back then," he says. "The staff quarters were small and we had to sleep on fold up beds." He joined the island as a storekeeper's assistant and was quickly transferred to a crew on the resort's dive vessel. He was soon promoted to captain and is currently manager of the island's launch and maintenance sections.
"He is like family," says Hassan Shiyam, Managing Director – PCH and the youngest of seven siblings on its board. "Although the property was owned and managed by family for years, I was not involved as I was studying abroad until recently. But long serving employees such as Manday (Mohamed Rasheed) knows how my father conducted business and I frequently seek his advice in matters regarding the resort and how it is to be developed."
Hassan, graduate in Hospitality and Tourism from University of Nottingham, UK, upon his return in 2009, oversaw the operations of another property owned by the company, The Rania Experience, in Faafu Atoll. He dedicated himself to the operation of Eriyadu in February this year and strategized the turnaround operations plan for the resort to enhance operational excellence and financial health "Among the first things I did was organising departments and strengthen reporting channels. Making the staff aware of these guidelines and procedures was the main thing I did really. Now the staff, even at the most junior level, are aware of the systems and procedures here."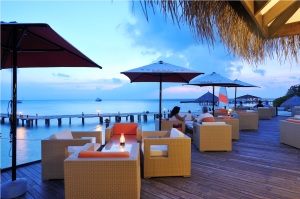 A new operations manager was required to help improve the resort's performance. Hassan found one in a man whom he had met fortuitously while on a visit to Vivanta by Taj Coral Reef, Maldives. "I was quite taken by his hospitality and made an instant connection with him although I hadn't planned on taking him away from Taj," he says. "I kept in touch with him though, and I told him later, while he was in India, that I was in charge of the property and would like to hire him. Luckily for us, he came here and discussed how to proceed, and it was with his advice and guidance that we started hiring people for various departments."
The man is Vaibhav Garg, a young Indian who has worked for almost a decade in the hospitality sector. He began his career with India's telecom giant Airtel soon after graduating with an MBA in Human Resources, and later joined the Tata Group in the year 2004.  He worked with two Tata companies, one of which is the Taj, where he gained his crucial first exposure to the hospitality industry. There, Vaibhav was also involved in research into hospitality in collaboration with Cornell University, New York as well as working at Taj's palace hotels and five star luxury hotels, Upper Upscale and Upscale hotels in both India and in the Maldives.
After working with Vivanta in Maldives, Vaibhav returned to India and joined Ginger Hotels, a budget hotel brand also owned by Taj and a part of the Tata Group, and focused on operational excellence for the brand Ginger along with his mentor and MD of Ginger Hotels. "Mission 365 – It was an interesting project," he recalls. "The aim of Mission 365 was to turn around the operational excellence of the brand and towards the end of this one year project our customer ratings went up high and we constructed a new model for this hotel chain in India. A lot of hard work hasgone into the Ginger Hotels that the world sees now, not only at the product level, but also with regards to brand standards, and what should an ideal Ginger Room and its offerings consist of, etc. This experience gave me a lot of insight as to how budget hotels operate." Vaibhav believes he was fortunate to have worked with Ginger Hotels and his mentor Mr. PK Mohankumar – MD of Ginger Hotels prior to taking on Eriyadu. "If I had taken up this assignment without having worked there, I wouldn't have had an idea of how economy hotels work. I would've tried to make this hotel a luxury one instead."
In March, when Vaibhav first came to the resort to decide whether he would take on his management role, he was immediately taken with it. "The first connecting point for me was that it was an economy hotel. I could feel a lot of "Ginger" in it. And Ginger was still fresh in my mind." What really made an impression on him though was the kitchen staff. "There was a departure at 5.30am. I didn't think they would serve breakfast for the departing guests but at five o'clock in the morning the kitchen was alive and the entire restaurant was open. I never saw that even at the Taj. It was very new to me and it touched my heart. So I thought that, fundamentally, some things were right here."
Vaibhav joined the resort on the 1st of May this year and began implementing his new service philosophy. "This is a no frills hotel," he says. "This hotel brand pledges to deliver four elements: cleanliness and comfort, safety and security, privacy, and courtesy and constant guest engagement. As long as I have these four elements, which are "smart basics", I am content." When examining the operations of the resort Vaibhav has a mental grid that he makes use of. "I put my strategy into four very clear segments: finance, customer, people and process. Am I making money? Are we looking at our costs? Are my guests happy? Are my staff happy? Are the things I do process driven or are they ad hoc? These are the fundamental questions I ask for an introspection before we take on any strategic initiatives."
He and his team have made significant progress within the hundred days since they have been appointed, changing, orienting and organising various aspects of the resort. An operational excellence initiative, covering nine key areas that range from creating good first impressions to providing seamless transitions between spaces, is in place. "There have been some key changes, both tangible and intangible," says Vaibhav. "The tangible physical aspect is reflected, for instance, in the lobby. It's more lively, uncluttered, and things are not just dumped. First impressions are everything. As our guests arrive they are making that critical first connection with this place. They want to feel like they've made the right choice — that this is the place they want to be. The first view of the resort should reassure guests that the hotel will be welcoming and comfortable. For me aesthetics play a key role in creating positive first impressions and an enhancing approach. Our new lobby arrangements ensure proper engagement opportunity where our guests find everything they need within easy reach. Whether they want a place to sit quietly or the option to be a part of the buzz, this is their centering point.  As "the heart of the public spaces," our lobby living spaces allow our guests to choose from a variety of seating arrangements that suit their own styles for socializing.
Also during check-in, this is where our guests make their connection to the property. The reception area and check-in process are the perfect opportunities to make that all-important first impression, relying on a beautiful environment combined with stellar service. We have implemented several initiatives and processes to make the Check-in a personalized, welcoming and efficient experience.
The same goes for the spa, which has been recast as Bougain Spa, replete with its own logo and signature treatments. The lone treatment room itself has undergone changes; it was once without a sense of harmony in décor, but today there is a feeling of wholesomeness. The new spa console outside offers guests a peek into what is on the table, and the massage therapist can discreetly find out if the guest is interested in a particular item on the menu. "Our BOUGAIN SPA experiences are offered by trained therapists, usingexclusive natural products in a fresh and pleasant design setting," Vaibhav notes."Our spa experience brings together the rich heritage of international wellness philosophies to offer guests some of the chosen signature therapies and unique therapeutic experiences that relax and rejuvenate and we are always 'house full'. "Enhancing dining experiences – another strategic move to ensure an Upscale Local Treat drawn in by an inviting table with exciting display, the restaurant is where our guests get a real taste of local flavor. More than a repast, here they find a reprieve from the expected hotel restaurant food. It's a dining experience they'll remember and want to experience again." The dining experience in the resort has also broadened. In addition to the usual sumptuous buffets, prepared under the supervision of the resort's executive chef, it includes a "repeater's dinner", where repeating guests are treated to a special supper on the beach. Also of note is Chef's Mania, a weekly event that offers guests an interactive experience with the chef in making a dish of their choice.  We are also focusing on events and special occasions and it has been our endeavor that every event at Eriyadu Resort is a special day. From birthdays to anniversaries, surprises, renewal of vows or any occasions, the event spaces set the right scene, allowing the guests to make each event uniquely their own. The spaces are designed and planned to be highly flexible so that each event can be personalized for its guests.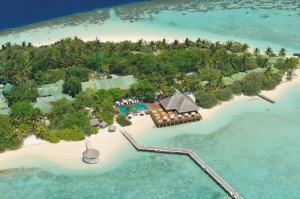 Intangible changes are perhaps even more important as they concern service, an aspect that Vaibhav does not wish to skimp on.  Guests are personally welcomed by Vaibhav and the Heads of Departments. He is present at the lobby during peak hours to meet and engage with guests and provide any assistance they require. He also sees off departing guests, sometimes presenting them with a small, thoughtful gift. There is also great attention to detail; a hibiscus flower in the centre of bath towels, a striking floral arrangement by the corridor, a handwritten card on a bed. This creates a sense of intimacy for the guests, a feeling that they are well looked after. Celebrations of events such as birthdays – which are surprise affairs – and anniversaries all add to that experience. "Hoteliering is an art," says Vaibhav. "It's like a performance and you cannot afford to go wrong. Our business is about attention to detail, whether you're involved in luxury or budget hotels. Small things make an impression on guests and they add on to the experience."
The change that came about through the new management is reflected in the hike in online ratings such as Tripadvisor's where the resort jumped from 69% in April to 74% in August. The reviews the resort has received for the month of August put it well ahead of the average score of hotels in North Male' Atoll, with 99.3% and 92.6% respectively. Eriyadu is now on 21st rank as of August out of 68 hotels in North Male. In March the position was 35th. Recent guest comments have highlighted staff attentiveness and performance on top of good food and snorkelling. "Eriyadu is affordable, it comes in a value for money packaging," Vaibhav says. "But value for money hotels are not necessarily cheap with bad service. I want to change that perception."
There is still room for improvement, and there are major plans for the hotel. New furniture and upholstery are forthcoming. The spa is set to be housed in a new building, and there are plans for a badminton court. Hassan reveals that the resort is adding more rooms to their inventory. With 66 rooms at present, he hopes to add another sixteen more in a two story block by the beachfront by November this year. The renovation of the existing rooms are also to be completed by November with thirty rooms completed so far. "It's been a great challenge to conduct renovation without closing down the island and with zero complaints from our guests," concluded Hassan. Given Eriyadu's new management and their uncompromising stance on service and quality, there is a vibrant future ahead for this great economy hotel in North Male Atoll.