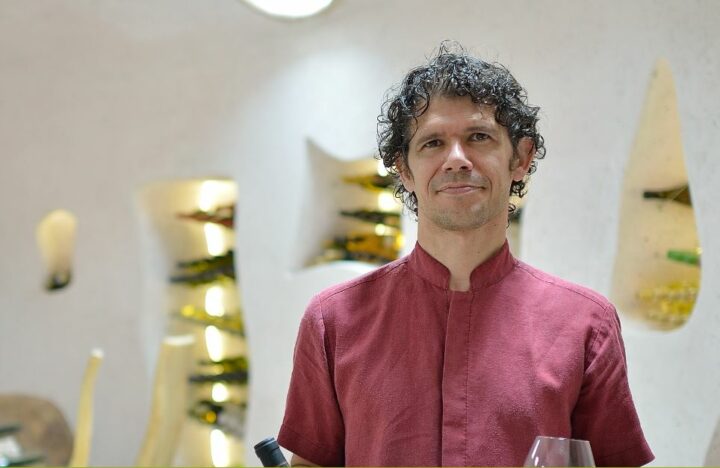 F&B: Fabrice Blazquez, Head Sommelier, Gili Lankanfushi
Born and raised in Bordeaux, France, Fabrice says he was born into the bottom of the barrel. He grew up surrounded by the rich history and culture of French winemaking and has practically been drinking wine since he was three years old.
Influenced by his father, an expert in the Negoce of fine Bordeaux wines, and his grandfather, an expert in spirits, Fabrice spent his youth working weekends in one uncle's shop or another's pastry or his father's shop and has always been more or less in the F&B industry.
When it was time to start a career, Fabrice initially decided to do something different and started work at a bank. In his two year tenure at the bank, Fabrice started missing the human interaction that came with the F&B industry, and with his passion for wine not subsiding, he decided to enrol in Sommelier courses and once he had the qualifications, Fabrice left banking to pursue his true calling as a Sommelier.
His first job was at the restaurant Le Medoc in Bordeaux, where he trained with wine masters including Frederic de Luze and Denis Dubourdieu, building up a vast expertise in Old World wine and spirits.
In 2003 Fabrice moved to the UK where he worked with leading figures in the wine and spirits world, developing his exhaustive knowledge of the industry. He trained under former World Champion Sommelier Gerard Basset, as well as Gerhard Steyn, expanding his expertise, particularly in New World wines. Fabrice also spent time working with Johnny Walker Ruinard Champion and Whiskey Master, enhancing his understanding of rare Whiskeys and spirits.After working 14 years in the UK, Fabrice says he woke up one morning and came to the realisation that his kids were all grown up and didn't need him anymore. He decided to open a new chapter in his life and look for new challenges. He, with the aid of a website for sommeliers, found openings in the Maldives and immediately applied.Upon being selected as Sommelier for Gili Lankanfushi, Fabrice says he was not sure what to expect when he arrived in the Maldives. He found it challenging initially, sourcing all the material he needed but says he had a fun time playing with the suppliers. The best thing Fabrice noted was that here, as opposed to the UK, he could use the extent of his knowledge in the craft to teach everyone working under him and they, in turn, were eager and happy to learn.
Working in the Maldives, Fabrice says is quite different. "The way of doing things is different. This does not mean a drop in standard, but the way of doing things is more relaxed," he says.
"You just have to open your eyes every morning and realise that if we're not in paradise, we are not far from it," he explains. Malé was, he says, the place he had a little bit of difficulty at the beginning as it was a bit confusing. But now Fabrice enjoys visiting Malé to source the material.As for his future plans, Fabrice says he would like to stay a bit longer in the Maldives. He wants to see the other side of Maldives, meet other people and see how they work. He says if everything goes well and after maybe ten years in the Maldives, he might move to another country, maybe China, Hong Kong or Japan.For inspiring hoteliers and especially for foreigners looking to try the Maldives, Fabrice says: "If you never try, you never know. Maybe sometimes the outcome is not the one you were hoping for, but at least you tried. You have to try the Maldives. It is a beautiful place, nice people helping each other, always smiling, and the temperature is beautiful year around. You can see a lot of things you will never see if you stay in another country."
"The good thing about the Maldives is you will enjoy both your work time, as the guests that are here are here to relax and you could enjoy nice conversations and meet people from all around the world, and when you're not at work it's the same. You're outside with your colleagues but you're with your friends as well. You could enjoy so much every day be it snorkelling or diving. It truly is a magical place," he adds.Fabrice is thankful to Gili Lankanfushi for giving him the opportunity and taking him into their family. He is thankful to everyone in his past. He especially thanks his grandfather and father for showing him that there is more to wine. Fabrice says he takes it as a challenge every day, to try and express to the guests this message, that wine is not just a drink but a whole story."Behind each label, there are people who make the wine and those who have put their whole heart and soul to make that wine. You've got a representation of their country, of the place and people behind each label of wine. It's not just a bottle," says Fabrice, "There's always a story, always a reason, even for all the spirit. There is a reason why rum is rum, why tequila is tequila. There is a whole history. That is what I like to share as well. It's something that you take your time to savour and really enjoy."