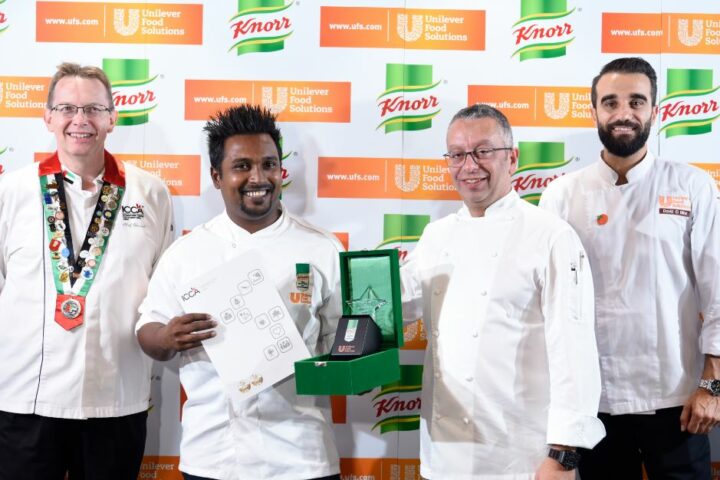 Chef Ahmed Fatheen crowned Knorr Master of Seasoning
Chef Ahmed Fatheen has been crowned The Master of Seasoning, at the internationally renowned event organised by Knorr. The event was held from September 17 to 21 in the United Arab Emirates (UAE). Chef Fatheen brought home the title by competing with leading chefs from eight Asian and Middle Eastern countries.
Master of Seasoning is a competition organised by professional chefs at Unilever Food Solutions that bring together renowned chefs who compete to prepare the most flavoured, mouth-watering dish of chicken using Knorr Chicken Stock Powder.
Master of Seasoning Competition held in the Maldives was facilitated by BestBuy Maldives Pvt Ltd (BBM) as the authorised and exclusive agent for Unilever Knorr products in the country. As the winner of the competition held in Maldives surpassing nine other candidates, Chef Fatheen was sponsored to participate in the final round of the competition held in U.A.E.
According to BBM, Chef Fatheen was provided with an all-expense paid tour to Dubai to participate in a culinary master class organised by City & Guilds London – the leading skills development organisation helping individuals develop their talents and abilities for career progression. In Dubai, Chef Fatheen also had the unique opportunity to follow a number of courses to fine-tune his culinary skills on Cook & Chill, Plating and Presentation as well as on how best to prepare for competitions at the Masterclass.
"It is a great honour for me to win the Master of Seasoning 2017. For me, it means not only earning a championship title in a cooking competition but also an opportunity to stand in the global arena," says Chef Fatheen.
"I was able to learn from and compete with some of the world's best through this opportunity. I was also able to show the world the fascinating and profound culinary culture of the Maldives."
Commenting on Fatheen's win, Ismail Hilmy, Managing Director of BBM said: "Bestbuy is happy to have provided chef Fatheen with the opportunity to compete at the Master of Seasoning Competition. BBM is ready to provide opportunities to chefs in the industry to go out to the international arena and show their talent and further to train them to take part in international competitions."We at Bestbuy are happy that our efforts in sponsoring Chef Fatheen have resulted in him winning the Master of Seasoning competition. We are proud of Chef Fatheen and he has brought great respect for himself and the Maldives hotel industry – indeed a great achievement," adds Ismail.Anuradha Edhirisinghe, Unilever's country leader for the Maldives and Sri Lanka congratulated Chef Fatheen on behalf of Unilever Food Solutions. Master of Seasoning was held for the second consecutive year and was opened to Maldives as a distinct country for the first time.
"The enthusiasm and engagement driven by our exclusive business partner in Maldives, Bestbuy Maldives were instrumental in achieving this phenomenal feat. I would like to thank the CEO Mohamed Mazloom for his passion and leadership, Senior Business Manager Nuran Jayakody for his unfailing attitude, and the support staff of BBM for their tireless efforts to drive this campaign," adds Edhirisinghe.
Praising Fatheen on the win, Ismail Rasheed, General Manager of Bandos Maldives—where Fatheen is currently employed—said: "Fatheen is not only a Chef; he is an artist and a designer too. He is a very talented, creative and innovative person with a pleasant attitude. He is not in Culinary as a job, but as his passion.
"Unlike other Chefs, rather than just cooking, he does his research on new innovations in culinary art and goes with trendy and stylish ways of cooking and garnishing. Fatheen is without a doubt the best Maldivian Chef".
Adding further support to Chef Fatheen, Mohamed Mazloom, Director/CEO of BBM said: "We are absolutely overjoyed that Chef Fatheen – a highly talented chef we are helping to groom – has surpassed extremely talented and experienced chefs from countries with enormous culinary advancements such Saudi Arabia, Egypt, UAE, and come out on top as The Master Of Seasoning 2017. This goes to show what a young lad from a tiny country can achieve with big dreams and a pair of knives."
Having won the phenomenal feat Chef Fatheen is now prepared to fulfil bigger dreams. Whilst enabling world-renowned chefs to improve their culinary skills and perfect their art, the one-of-a-kind Master of Seasoning competition also paves the way for the winners such as Chef Fatheen to dream bigger, adds the organiser.