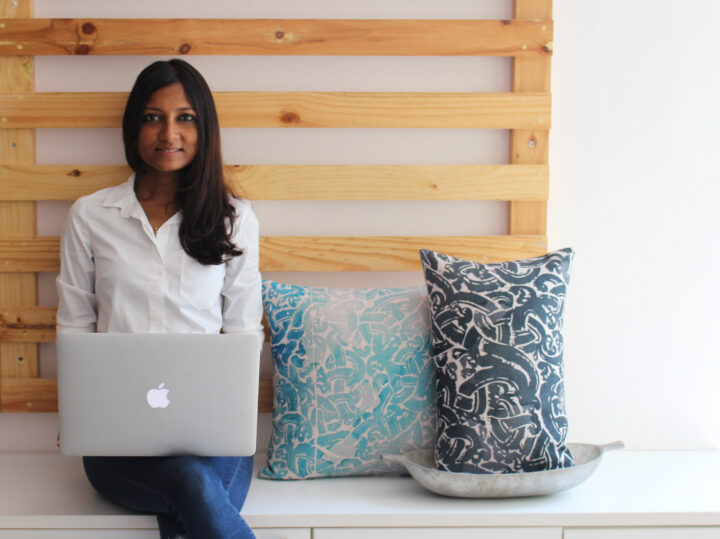 Fathimath Salah, Founder and Principal Designer of Niru Studio
Koki's fascination with design began at an early age, as during her childhood she was exposed to the works of local boat builders and crafts people. She studied Interior Design at the Queensland University of Technology in Brisbane, Australia and completed her Master in Interior and Product Design from Academia Italiana in Florence, Italy in 2008.
Prior to establishing Niru Studio six years ago, Koki has also gained experience as a designer by working with two Maldivian architectural firms, and notable works include Seagull Café in Male', safari boat Gurahali and Conrad Maldives Rangali Island.
"The vision behind establishing Niru was to expand the role of interior and product design within the built environment industry of the Maldives," explains Koki. Niru Studio, while specializing in product and interior design, provides a range of services that include concept development, detailed draft drawings, furniture and lighting design, shop drawings of joinery and 3D visuals.
"A focus of Niru Studio has always been to work with local artists for the artworks of the spaces we design," says Koki while speaking about the various projects for which she has collaborated with local artists, firms and independent service providers. "I strongly feel this is needed more in the Maldivian resort interiors. Because we need to create spaces that are unique to the Maldives, where foreigners are paying incredible amounts to come and experience something unique and authentic," she adds.
While adhering to client specifications and ensuring client satisfaction is a core emphasis of Niru Studio, the studio is also focused on providing designs that are socially, economically and environmentally responsible. "I think I am someone who considers functionality a lot while designing," Koki says while reflecting on the main aspects of her designs. "When it comes to aesthetics, I like to mix the new and the old," she adds. According to Koki, her main source of inspiration has always been her travels both in the Maldives and the world.Niru Studio has done a number of projects for various resorts in the Maldives. "When considering the scale, the largest project we did was for Summer Island. We did all the rooms and public areas such as restaurants, bars and reception areas and we also got to work very closely with the client as well as the client's engineers. We also got to do our own furniture designs. It was a very good opportunity," Koki explains.
Another notable project is the Hilton Conrad Waldorf Lounge at Ibrahim Nasir International Airport which Koki completed during the early days of Niru Studio. According to her, this was a project that opened up many new doors. In addition to Summer Island and Conrad Maldives, Niru Studio has also completed projects with resorts such as Hideaway Beach, Kuramathi, Kuda Rah and Irufushi.According to Koki, local firms often get a limited exposure, especially from the resort market and this has been one of the biggest challenges for Niru Studio so far. Additionally, there are also challenges to running a small business in the Maldives as most services such as banking and government permits are designed for larger companies. "We are very thankful for companies and individuals such as Kaimoo and Mr. Ahmed Saleem of Crown Company for giving us the chance and personally trusting me to design everything from the general interiors to furniture and lights, it has been a great learning experience," Koki says.
Island Bazaar
Recently, Koki and her partner Hassan Rameez launched their brand boutique Island Bazaar. The brand creates and sources lifestyle and interior products that celebrate the island spirit, culture, and history of the Maldives.
"We noticed that something was lacking in the Maldivian interior spaces as well as in giftware, as most other countries seem to have this in their hospitality and retail industry. So we set out to actually make products and source 'physical' products rather than looking at designs or ideas," Koki says while speaking about the beginning of Island Bazaar.Products at Island Bazaar include throw pillows, jewellery, bags, swimwear, and artworks among many more. One interesting aspect of Island Bazaar is that it sells products from Maldivian brands such as Kandumathi, Funoas, Maskula and local individuals. Additionally, Island Bazaar sources items such as the traditional Thundukunaa mats and other such items from the Maldives Authentic Crafts Cooperative Society.
"One of the most rewarding things about Island Bazaar is the amount of local talent we get to see and work with. We are yet to travel extensively in the islands to source more products, but even now most of our local products come from women who do these crafts as an additional job to their day jobs and it has been very inspiring to see their dedication to their art," Koki says.
Through Island Bazaar's designs inspired by the Maldivian heritage, and by fusing contemporary products with traditional artistry, the brand hopes to keep the local arts and crafts alive and very much part of the Maldivian future. And according to Koki, Island Bazaar hopes to be both a platform for local artisans and a one stop shop for those looking for interior products that encompass the essence and culture of the Maldives.