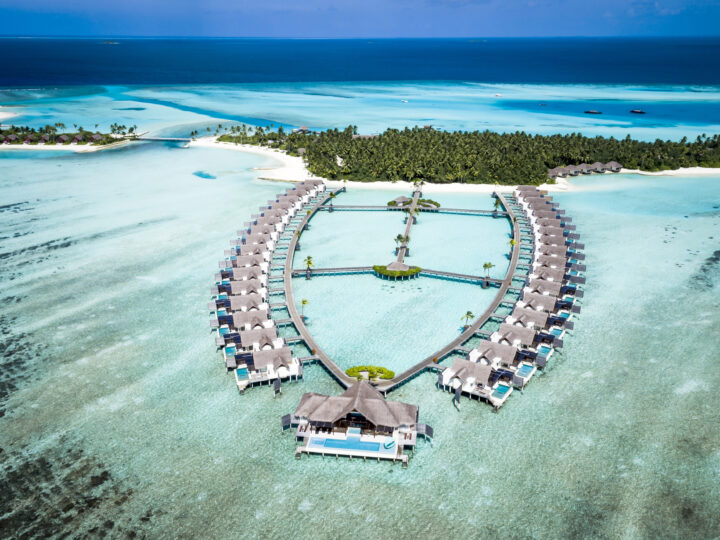 Festive Season highlights at PER AQUUM Niyama
PER AQUUM Niyama has announced special activities for the upcoming festive season.
Staring on 22nd December, special activities include a Festival Updos Workshop at LIME Spa and an Underwater Christmas Tree Lighting Ceremony.
For little VIPs and families, highlights include storytelling, snorkeling, making Christmas cards and baking.
On 23rd December, kids can enjoy face painting, making Christmas tree decorations, and creating handmade ornaments.
On Christmas Eve, special activities include management cocktails on the beach at Dune, intimate fine dining at Edge restaurant, and a White Christmas Dinner at Epicure restaurant.
Children are invited to bake sweet treats, create their own gingerbread house fantasies and Christmas puppets as well as enjoy a visit from Santa Claus. For kids between the ages 5 to 12, a kayak adventure is also on offer.
On Christmas Day, various activities are planned for kids from 12 months to 12 years; a Treasure Hunt, a Christmas Party in Explorers Kids Club, and surprises from Santa.
The resort's LIME Spa invites guests to indulge in an Intraceuticals facial treatment and receive a 20 per cent savings certificate for an extra session at the spa.
On Boxing Day, activities include a Family Dolphin Trip and a Paul Ropp Fashion Show starring the little VIPs.
On 29 December, highlights include a Festival Updos Workshop at LIME Spa, and a Wine Dinner at Edge restaurant.
The little VIPs and families can enjoy edible sparklers, confetti crowns, LIME Spa sessions, and fishing trips.
On 30 December, Children will gear up for New Year's Eve by making fireworks discovery bottles and DIY noisemakers. Kids between the ages 5 to 12 can go on a snorkelling safari and a cheeky island getaway or enjoy a family movie in the evening.
On 31st December, New Year's celebrations will be kicked off with a Cocktail Party at Tribal Beach with the sound of Les Misérables, a late Gala Dinner at Epicure and Dune Beach and a Countdown Glow Beach Party at Dune Beach with DJs and dancers.
On New Year's Day afternoon, kids will get to enjoy New Year's celebrations at Explorers Kids Club with special activities such as paddle boarding expeditions, home-made party blowers, fireworks and cookies.
New Year's Day will begin with a New Year's Day Breakfast & Detox Station at Epicure. An Intraceutical Oxygen Facial Testing at LIME Spa is also on offer.
The little VIPs will get a chance to make history with the magic of a time capsule, splash away in a tropical water fight or meditate during children's yoga and ring in the New Year with an afternoon Explorers Kids Club blowout bash.