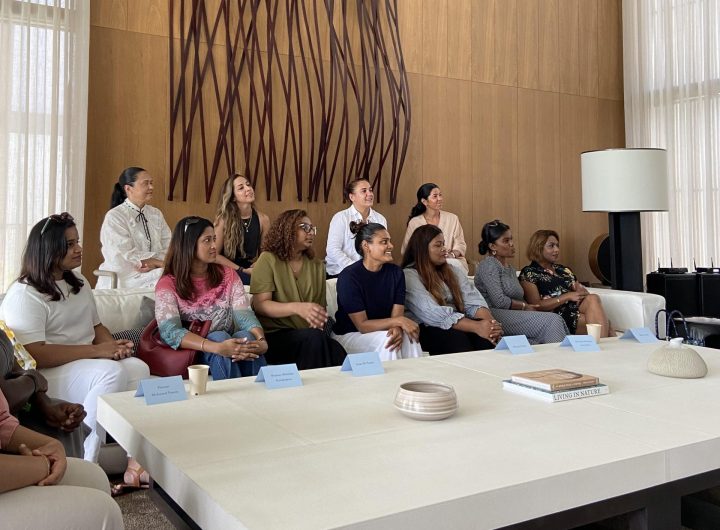 First Edition of Leading Ladies Concluded by Ritz-Carlton Maldives
The Ritz-Carlton Maldives has successfully concluded the first edition of Leading Ladies with guest Chef Tala Bashmi joined by the women of hospitality industry in the Maldives.
Further in attendance were the Director of Marketing Arianna Calcaterra, Director of Human Resources Deanne Garling and Marketing Manager Cana and Resort Manager Julianna for Ritz-Carlton Maldives.
Panelists who spoke in the interactive session include Director of Sales at Jen Maldives Mariyam Shafiyya Steinhilber, Aminath Hameed Pastry Chef at Ritz-Carlton Maldives, Sous Chef at Coffee Shrub Saara Ali Naseer, Pastry Chef at Fushifaru Maldives Mariyam Shaazee, Creative Culinary Director at Oagaa Resorts Maha Naseer and home bakers Hanaan Mohamed Naeem and Shayaan Abdullah Kamaludeen.
Tala Bashmi is a Bahrain-born and Swiss-trained chef who was named the winner of the first Middle East & North Africa's Best Female Chef Award 2022. Tala is known as the voice of modern Bahraini cuisine at her restaurant, Fusions by Tala, at Manama's iconic five-star Gulf Hotel Bahrain. Tala presented an exclusive dining experience at Arabesque restaurant at Ritz-Carlton Maldives during Eid Al-Adha from 9th to 10th July.
Speaking at the forum, Tala Bashi highlighted the challenges faced by women in a male-dominated industry. "The reality is that it is very difficult to have a work-life balance but we all need to start working and creating the path for ourselves. I wouldn't say it's different to be a Chef in any part of the world so you need to work towards what you want, tackling the stereotypes while you are at it" Said Tala Bashmi
Leading ladies is the first edition of a newly introduced series by the Ritz-Carlton Director of Food and Beverage Dan Drebing with the aim of providing hoteliers and industry professionals a platform to create a dialogue about the issues within the industry.