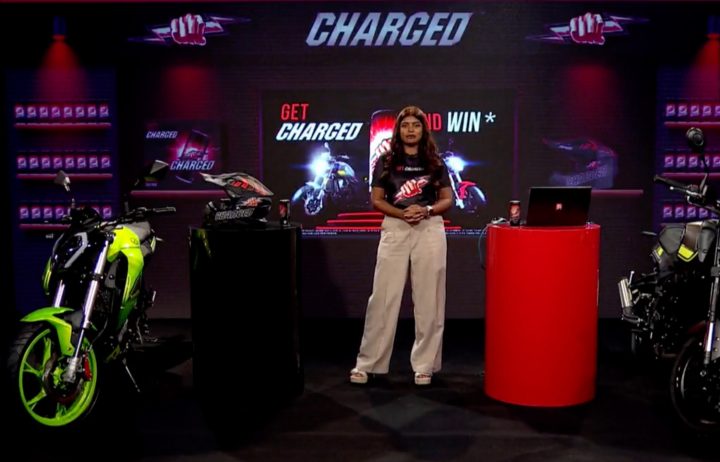 First winners of 'Get Charged and Win' promotion announced
The air was charged with anticipation as the first live draw of the 'Get Charged and Win' promotion took place on July 23. In a thrilling event witnessed live by thousands of eager viewers, Charged, in collaboration with Benelli Maldives and Lotus Bike Shop, revealed the names of the first lucky winners!
The highlight of the first draw was the announcement of our grand prize winner who will be riding away in style on a brand-new Benelli 180s motorbike! Mohamed Adam can now embrace the freedom of the open road on this cutting-edge motorcycle, courtesy of Charged, Benelli Maldives, and Lotus Bike Shop!
But the excitement didn't stop there! Two more winners were declared as they received exclusive Charged-branded helmets. These stylish helmets not only represent safety but also embody the spirit of adventure and thrill that comes with every sip of Charged caffeinated beverage. Three more lucky individuals also won Charged drink cases in the draw, to keep them invigorated and ready to seize every opportunity that comes their way!
The 'Get Charged and Win' promotion, which kicked off with a star-studded launch event on June 23, is now in full swing, and there's never been a better time to try your luck! The exhilaration of winning incredible prizes, like more Benelli motorbikes, helmets, and drink cases, is within your reach. With several more draws to come, including those on August 5 and 19, and September 2 and 16, the odds of winning have never been more inviting.
Participating is easy – simply grab your favourite Charged caffeinated beverage, ask for a scratch card, and send the hidden code on the scratch card to 2626 via SMS. Who knows, you might be the next name to light up the screen as a proud winner in our upcoming draws on August 5 and 19, and September 2 and 16 – all taking place live at 9:30pm on the nation's favourite channel, Television Maldives (TVM).
Charged, a ground-breaking addition to Coca-Cola Maldives' beverage portfolio, is available in 250 ml, in 100% recyclable aluminium cans, in line with our packaging strategy to use 100% recyclable packaging material. The caffeinated beverage is now widely available at major retail outlets, hotels, restaurants, and cafes throughout the Maldives.