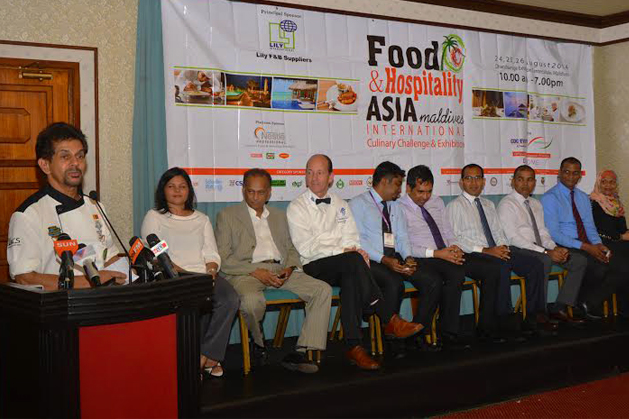 Food and Hospitality Asia Maldives 2015 Expo to take place in August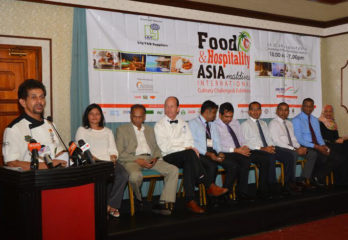 The annual 'Food and Hospitality Asia Maldives (FAHM) 2015 Exhibition and International Culinary Challenge' is due to take place at the Dharubaaruge convention centre in Male' from August 10 to 12.
Deputy Minister of Tourism Hussain Lirar officially launched the exhibition at a ceremony at the Nasandhuraa Palace Hotel on January 20.
The exhibition offers an opportunity to showcase products and services from international companies to the local hospitality industry, Mohamed Ajmal, managing director of the event organiser Dhivehi Expo Services, told the press after Tuesday night's ceremony.
"One of the main challenges faced by the Maldivian tourism industry is the difficulty of sea transport to buy products and check what is available in the market," Ajmal observed.
The exhibition brings together resorts, hotels and suppliers under one roof, he added.
Interested parties have now been invited to participate in the exhibition.
Dhivehi Expo Services noted in a press release that Gissur Gudmundsson, President of the World Association of Chefs Societies (WACS) attended last year's exhibition and participated in the judging panel for the culinary challenge.
Gudmundsson's presence as well as WACS' endorsement of the event was a significant achievement and an honour for the nation, said Mariyam Nooradeen, President of the Chefs Guild of Maldives.
Last year's event featured 100 stalls and more than 350 participants.
The International Culinary Challenge will take place concurrently with the FAHM exhibition and is expected to draw 500 chefs from resorts, hotels and restaurants from across the Maldives as well as other countries in the region.
"The FHAM Culinary Challenge will act as a meeting ground and an ideal platform for all the local and international food and beverage executives to meet chefs and discuss their requirements on a personalised note during the event," Dhivehi Expo Services stated.
"Chefs and service personnel from Maldivian resorts and other participating nations will vie for top honours at the competition."
The panel of judges would be comprised of WACS-certified culinary professionals.
Moreover, the challenge would also serve as a qualifying contest to choose a team to represent the Maldives in the Culinary Olympics 2016 in Germany.
Dhivehi Expo Services is organising the event in association with the Chefs Guild of Maldives. The exhibition has been endorsed by WACS and supported by the Faculty of Hospitality and Tourism Studies of the Maldives National University as well as the Chefs Guild of Sri Lanka.
The principal sponsor of the event is Lily International while the main sponsor of the culinary challenge is Nestle.
Evo Homes is the 'Official Kitchen Systems Provider.'