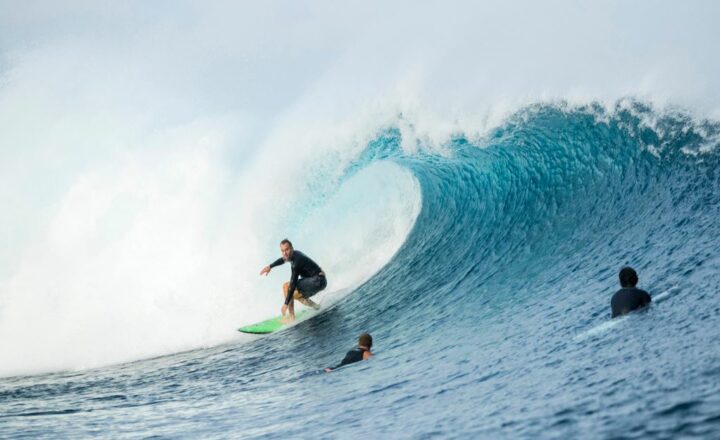 Full line-up of Four Seasons Maldives Surfing Champions Trophy named
The full line-up for the Four Seasons Maldives Surfing Champions Trophy have been announced, with Rob Machado, Ross Williams and Ismail Miglal named as three new competitors of the championship. The event will take place from August 7 to 13 at Four Seasons Maldives at Kuda Huraa.
Rob Machado (USA), Ross Williams (HAW) and local star Ismail Miglal (MV) will join already-confirmed CJ Hobgood (USA), Maya Gabeira (BRA) and defending champion Taj Burrow (AUS).
"The line-up is looking epic. A World Tour veteran, Williams brings with him a wealth of performance experience.  And, fresh from retirement, Machado's free surfer style and twin fin skills will give him a sure-fire edge in the competition's twin-fin division," says Mark Winson of Tropicsurf, the coordinator of the event.
"But no one knows the locality like three-time Maldivian National Champion Miglal. Everyone in the lineup has a different area of expertise, just what's needed for our multiple-division contest."
Australia-born Rob Machado was named WCT Rookie of the Year in 1993, rising to a world ranking of #5 the following year. With 12 World Tour Wins under his belt and inducted into the Surfing Walk of Fame at Huntington Beach in 2011, Rob is considered the smoothest surfer of his generation.
Ross Williams, from Ohio, won the boys' division of the 1988 United States Surfing Championships before embarking on a nine-year world circuit career that saw him acclaimed as one of the sport's best all-rounders. As smooth and strong in waves from 2 to 20-foot (1-6 metres), the powerful, easy-going regular footer also enjoyed plenty of screen time in numerous productions of surf video king Taylor Steele.
Three-time national champion Ismail 'Kuda Issey' Miglal is one of the Maldives' most popular surfers. His 25-year surfing career has included a wealth of international competitions, including a victory at India's Covelong Point Classic 2014 and Malaysia's Tioman Surf Festival 2015.
"It is an honour and a privilege to surf our local waves with this line up of legends. Thank you for the opportunity," says Ismail.
Unique in many ways, Four Seasons Maldives Surfing Champions Trophy determines a surfer's heat time based on their age and tests skill across three different divisions: single-fin, twin-fin and triple-fin thruster.  Places are granted by invitation-only to just six champions in a battle for inner-circle kudos and the USD 25,000 prize winnings, says Four Seasons Maldives.
The Surfing Champions Trophy is hosted on board Four Seasons Explorer where fans can get up close to the action with onboard VIP passes, while the "surf tour" experience continues with shoulder-rubbing events back at Four Seasons Resort Maldives at Kuda Huraa, which plays host to the contest's competitors, judges and Tropicsurf partners.
Coinciding with the championship, Four Seasons Maldives is also offering the Surf, Spa & Save package, which comes with 15 percent cuts on room rates, in addition to spa packages, day passes and VIP tours.