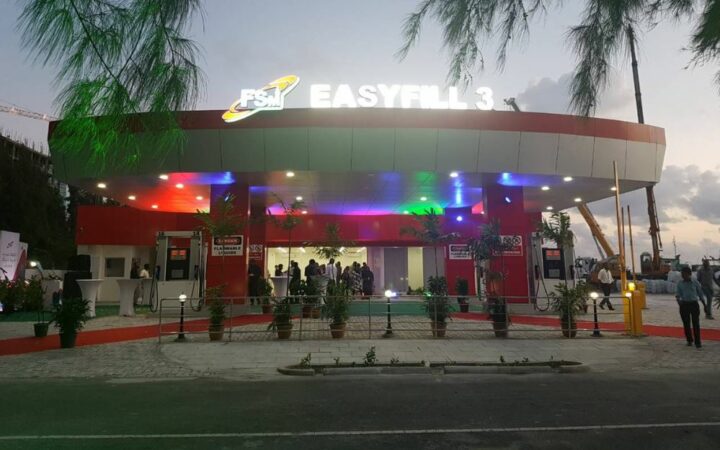 Fuel Supplies Maldives (FSM) establishes fuel shed in Hulhumalé
Fuel Supplies Maldives (FSM), a subsidiary of State Trading Organisation (STO), has established a new fuel shed in Hulhumalé. FSM Easy Fill 3 is located near the Hulhumalé Ferry Terminal on Chaandhanee Hingun.
"Previously, the residents of Hulhumalé had to purchase petrol at a higher rate than in Malé," observes Ahmed Shaheer, Managing Director of STO, speaking at the function held to officially open the new facility.
"With the opening of the new fuel shed by FSM, petrol and diesel has been made available at the same rates as in Malé, which will be 20% lower than previously available rates."
STO, last July, cut the rate of petrol and diesel, attributing the reduction to a drop in import duties on fuel. FSM currently supplies petrol at a rate of MVR8.65 per litre, and diesel at a rate of MVR8.44 per litre.
"We always aim to enhance our services. I would like to note that our subsidiaries have made a number of efforts over the past few years to improve our services," adds Shaheer.
Established in December 2000, FSM was formed with the main objective of streamlining fuel distribution in the country and to offer easy and convenient access to fuel throughout the country. Since its inception, FSM has built a strong distribution infrastructure to cater to the needs of the country and has been able to establish a network for distribution of fuel.
With the introduction of new technologies, FSM has revolutionised the way fuel is delivered and handled in the country and has set standards for the others in the industry to follow. It is continuously looking at ways to improve the efficiency of its delivery systems through the introduction of the latest technologies and best practices and has worked vigorously to improve the capacity of the company's staff to meet the challenges faced and the ever growing expectations of our customers, according to the company.