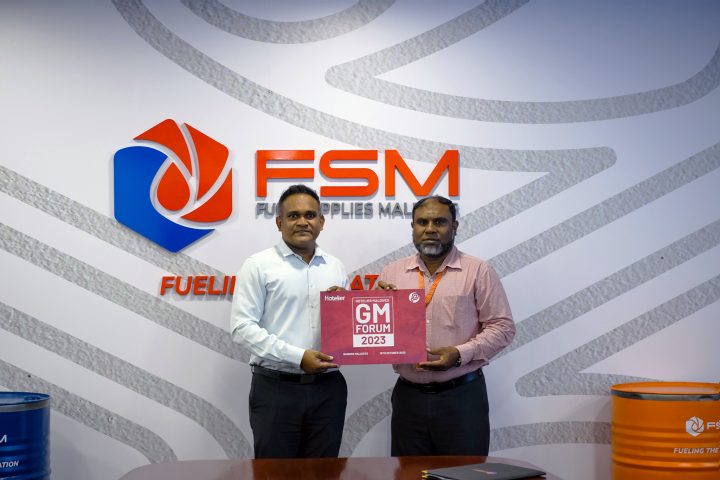 Fuel Supplies Maldives joins as Club Sponsor for Hotelier Maldives GM Forum 2023
Hotelier Maldives, the leading tourism and hospitality publication in Maldives, today announced the signing of Fuel Supplies Maldives (FSM), the leading fuel distributor in the Maldives, as the Club Sponsor for the highly anticipated 2023 GM Forum. The event is scheduled to take place on October 19, 2023, at Bandos Maldives, bringing together industry leaders, innovators, and experts from the global hospitality sector.
Fuel Supplies Maldives (FSM) has consistently been at the forefront of fuel distribution in the Maldives, ensuring a reliable supply of essential energy resources to diverse sectors. With a steadfast commitment to excellence, FSM has played a pivotal role in supporting the energy needs of the nation.
"We are honoured to be the Club Sponsor for the esteemed 2023 GM Forum. Fuel Supplies Maldives is dedicated to ensuring energy security and reliability in the Maldives. We look forward to engaging with industry leaders and contributing to the success of this influential event," Mohamed Gasam, Managing Director of Fuel Supplies Maldives, said.
The Hotelier Maldives GM Forum 2023 is expected to attract over 100 hoteliers from various resorts and hotels in the Maldives. This year's forum is sponsored by several leading companies in the hospitality sector, such as Ooredoo Maldives, Fuel Supplies Maldives, Far Horizon, Bestbuy Maldives, Manta Air, Coca-Cola Maldives, Alia Investments, Villa Hakatha Swimsol, Souvenir Marine, Print Lab Creative, and more.
Ali Naafiz, Editor of Hotelier Maldives, commented on the partnership: "FSM's role as the Club Sponsor for the 2023 GM Forum reflects their unwavering dedication to ensuring a stable energy supply for the Maldives. Their contributions align perfectly with the forum's mission of advancing progress in the industry."