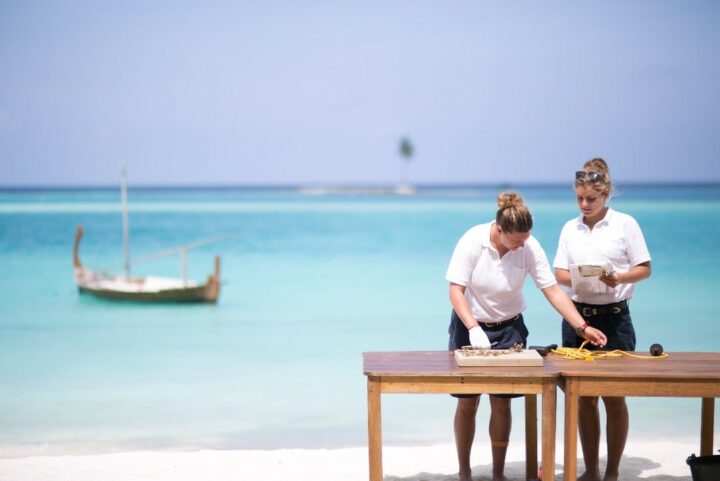 Gili Lankanfushi set to unveil Marine Biology Centre and welcomes new Marine Biologist
Gili Lankanfushi is preparing for the opening of its long-awaited Marine Biology Centre, with a new Marine Biologist joining the team as two leave. After years of service Deborah Burn, the Resident Marine Biologist and Environmental Officer, and Josie Chandler, the Assistant Marine Biologist at Gili Lankanfushi are saying goodbye and moving on, the resort said.
"After three years of dedicated work, Deborah is moving on to live and work in New Zealand," said Gili Lankanfushi on its blog. Deborah has been praised for having set exemplary standards for how a marine programme should be run by combining her passion and knowledge for marine conservation to create lasting connections with local and global marine organisations, it added.
The resort also expressed gratitude towards Deborah for her work and said: "She also raised the bar on the guest excursions and the experimental science carried out at the resort. Thank you for doing such a fantastic job, Debs."
Josie, who had been with Gili Lankanfushi for two years, is also leaving in pursuit of her next piece of paradise and currently plans to spend the end of the year underwater in a remote, tropical location. During her time with Gili, she was responsible for the creation and execution of a sustainability program to 300 hosts and also co-managed the corallines project, it said.
Both biologists have made a positive impact on the Maldivian marine ecosystem and has warmed the hearts of their colleagues and friends at the resort, it said, also adding: "The hard work put in by these marine biologists and sustainability educators has ensured that everyone at the resort knows more about how their day-to-day habits affect the environment around them."
The successful projects instigated by Deborah and Josie will now be passed down to Clare Baranowski, the resort's new Marine Biologist and Environmental Officer.Expressing excitement over her new job, Clare said: "I am looking forward to continuing the great work of Debs, Josie, and Vaidas. I am hoping to incorporate some long-term goals of my own working with hosts and local communities."
According to the resort, Clare is extremely excited to be at Gilli and has exciting plans to build the marine biology team to include both an international and Maldivian marine biologist. Clare is set to start her initiative by opening the long-awaited Marine Biology Centre on World Oceans Day on June 8.The name for the Biology Centre has yet to be finalized. The resort said: "We have put it to the hosts to come up with ideas and we received over 100 suggestions. Stay tuned to find out which name is chosen."
Gili Lankanfushi, set on the private island of Lankanfushi in the North Malé Atoll, is an intimate coral island surrounded by a sparkling lagoon with jetties threading across the water to spacious villa accommodations, where privacy is imminent.