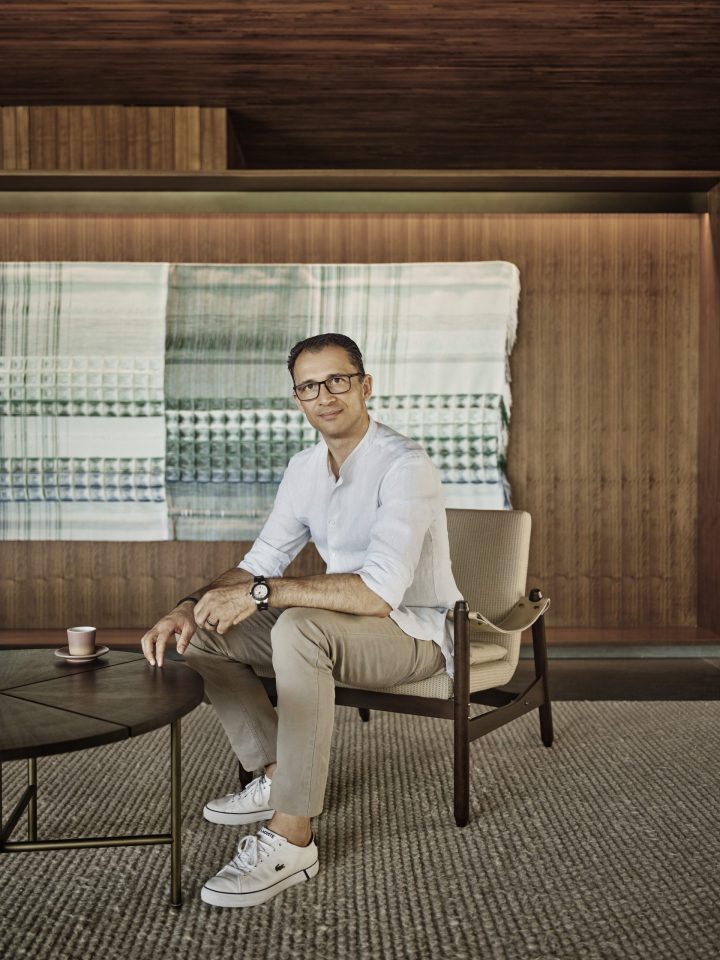 GM's View: Antonio Saponara, Patina Maldives, Fari Islands
Antonio Saponara was appointed general manager at Patina Maldives, Fari Islands, following the luxury resort's first anniversary. Antonio brings in over fifteen years of experience overseeing hotels around the world, working for companies such as AMAN Resorts, Marriott, and Bulgari Hotels & Resorts.
Hotelier Maldives speaks to him about his career, experience managing a hotel in the Maldives, and his advice to aspiring hoteliers.
Hotelier Maldives: Tell us a bit about yourself and your career. How was your journey from restaurant manager to hotel general manager?
Antonio Saponara: I knew from childhood that I had a passion for hospitality and particularly for F&B. After hotel school in my hometown of Napoli, I moved to London at eighteen and started as a busboy at the Four Seasons London. From there on, it was only hard work and making friends that propelled my career.
HM: What is it like to be the general manager at the Patina Maldives, Fari Islands?
AS: I feel very fortunate to be heading Patina Maldives, a socially conscious new hospitality brand that reflects the travel attitudes for today's affluent tribe of globetrotters. From art, music, food & beverage offerings, to our philosophy on sustainability and our innovative approach to wellbeing – the sky's the limit when you have a concept like Patina.
HM: You have an impressive track record of managing flagship hotels for luxury brands. How different is your current assignment with Capella Hotel Group compared to your previous experience with Bulgari Hotels & Resorts?
AS: It was a great privilege to be with Bulgari Hotels & Resorts. It has taught me how to manage an iconic luxury brand rather than just a luxury hotel brand. I personally feel that I can leverage a similar approach for Patina Maldives. Capella Hotel Group has a firm belief that iconic brands are built on a distinctive culture that permeates its organisation, starting from its people, then moving into aesthetics and experiences. Patina Maldives is a great starting point to further enhance and nurture a unique experience in the Maldives.
HM: What's the biggest challenge you face in your work as a GM? And what do you like most about it?
AS: There are many challenges in running any business nowadays. Competition is fierce, and organisational challenges are complex, such as hiring and retaining talents who, due to the pandemic, have been disaffected by the hospitality industry. We need to work very hard to regain their trust as a whole. Supply chain management is also a significant challenge arising from the pandemic as it affected cost and availability of goods.
What I do love most is that not one day is like the previous one. There are always new happenings and new learnings. We need to become experts in numerous fields, such as engineering, health & safety; and in the Maldives – managing a fleet of yachts.
HM: Describe a day in your life as GM at Patina Maldives.
AS: I usually start at about 7 am by going to the resort's arrival dock to take in the beauty of the Fari Islands and the lagoon of Patina Maldives. We have an early morning meeting with all key leaders, and then it is time to greet guests at breakfast, followed by more time with arriving and departing guests. The time in between is filled with meetings and calls and spending time with Teammates (how we refer to colleagues at Patina). The evenings are dedicated to meeting and entertaining guests. The days can be long, but it is a great feeling to be on a mission to make a difference for our teammates and create beautiful memories for our guests.
HM: What sets the resort apart from other luxury resorts in Maldives?
AS: Firstly, we are part of the idyllic archipelago that is the Fari islands, which is a destination in itself – with its marina, shopping and dining village. Secondly, the design and interiors of Patina Maldives is unique, especially in the Maldives. You'll find the proportions of space and its minimalist lines more reminiscent of an affluent home, not of a typical resort. Thirdly, we revolved the resort's experiences around the lifestyle and interests of cultured, like-minded peers in a community. This sense of intimacy and community we're building is one we find highly effective in building brand loyalty and repeat guests, almost like an insiders' club.
HM: Patina Maldives recently celebrated its one-year anniversary in May. Is there anything exciting upcoming?
AS: We have many ideas in the making. We have built an enviable reputation as a dining destination, which will be further enhanced with new venues and experiences. Guests' amenities will also be expanded, especially regarding fitness, with the expansion of our gym, addition of a Padel court and five-aside football pitch. Marine conservation, such as our upcoming turtle genetic mapping expedition, and solar energy are two key areas we are focusing on to improve data. We are also expanding our fleet of luxury yachts for private charters.
HM: What do you think is the most important skill a leader should have?
AS: Successful leaders require to have many soft skills alongside sharp business acumen. In my view, some essential qualities are integrity, persistence and empathy.
HM: What advice would you give to hoteliers aspiring to get to your position?
AS: Everyone holds the key to their destiny. Having a vision and working hard towards it is the best investment one can make towards their future.