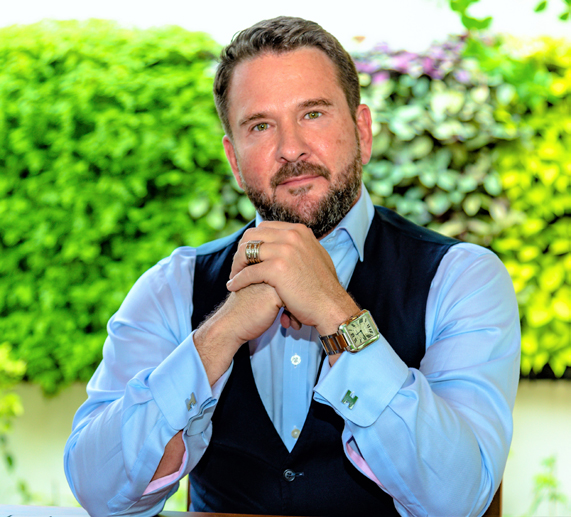 GM's View: Riddian Davies, Group General Manager and Commercial Director, Reethi Faru Resort and Reethi Beach Resort
Reethi Faru Resort, a four-star superior, on the scenic island of Filaidhoo in the northern Raa Atoll has appointed Riddian Davies as the Group General Manager & Commercial Director. Davies joins the 150-villa hotel, following various five-star roles as general manager in London at the Marriott Hotel on Park Lane, the historical Royal Horse Guards Hotel and One Whitehall Place and Amba Charing Cross. He has over 20 years of hospitality experience in a variety of roles within groups including, Hilton, Guoman Hotels and Jurys Doyle.
Hotelier Maldives: You've worked in the travel and hospitality industry for over 20 years. Can you tell us about your journey in the industry?
Riddian Davies: I grew up in South Africa, where I started in food service at hotel school but soon changed directions towards a degree in Hotel Management from Granger Bay Swiss hotel school. In 1998, I left to start my career in London after achieving further qualifications in revenue management and PR.
Starting my career at the five-star Hilton Green Park in F&B, I was quickly promoted to Front Office including reservations.
My following role as Rooms Division Manager at the five-star Jurys Clifton off Oxford Street led to me being headhunted for Thistle Hotels Plc – the UK's largest hotel chain at the time – where I was appointed as Revenue Coordinator to implement a variety of revenue management principles and procedures as well as to conduct various hotel audits within the entire company's portfolio. A few months in, I was promoted to an area revenue management role, managing over 2000 rooms in central London.
I then pursued my career in general management within the same organisation and was the youngest GM within the company, starting off at running 314 bedrooms at Heathrow Airport. This was followed by a dual role of being an area GM in central London before being asked to open Guoman's first five-star self-serviced apartments on an 18-hole golf course in Denarau, Fiji.
Owing to the success of my past career in opening and refurbishing hotels and resorts, I was then tasked with two refurbishment projects, a total of 750 rooms in Kuala Lumpur, Malaysia. Upon completion, I was brought back to the UK to be the Group General Manager for several five-star hotels in London, the Amba Charing Cross, the Grosvenor Hotel and the iconic Royal Horse Guards and One Whitehall Place opposite the London Eye on the River Thames.
Within my many successful years within GLH hotels owned by Hong Leong in Malaysia, I was also instrumental in multi-million-pound refurbishment projects and rebranding at the 700-room Amba Marble Arch Hotel and the 1012 bedroom Cumberland Hotel on Oxford Street. Upon concluding a short contract at the Marriott Hotel on Park Lane and 20 years in London, I changed my lifestyle and I am now currently pursuing my dreams based in the Indian Ocean and working on new openings, property developments and refurbishments at Mahogany Pvt Ltd in the Maldives.
HM: How has your experience at opening Reethi Faru Resort been so far?
RD: I am delighted to have recently opened the Reethi Faru Resort on behalf of Mahogany. Our company is transforming and the completion of our bio luxury resort will be putting us on the map as we embark on the developments of future islands. Together with my dynamic team, I am thrilled to drive our commercial and operational activities and elevate our service and positioning to the next level in one of the most unique destinations in the world.
Reethi Faru Resort is a stunning bio luxury resort on the private island of Filaidhoo and is proud to have guardianship of all that nature has created. Our commitment to minimising the impact on the thriving ecosystem has led to the development of a series of coral nurseries, alongside numerous conservation initiatives, in order to maintain and even enhance the natural landscape of our stunning private resort.
HM: Having developed academically through numerous hotel management programmes from prestigious educational establishments, including Henley College Business School, what do you aim to bring to the Maldivian hospitality scene?
RD: I aim to bring in a different perspective with a passion for creativity and innovation, supported by strong commercial acumen and complimented by my knowledge of upscale markets, openings and developments. One of my key roles at Reethi Faru Resort and Reethi Beach Resort is a commercial one. I am also driven to stay at the forefront of industry developments to maximise opportunities for Mahogany Pvt Ltd.
HM: You bring almost 20 years of hospitality experience from a variety of leadership roles within groups including Marriott Hotels & Resorts, Thistle, Guoman and Amba. What are some of your best experiences in the hospitality industry?
RD: Hotels have the rare opportunity to engage people in suggestive ways throughout their stay. It is important to focus on the guest by ensuring that every element of the hotel runs in harmony so that the guests get the best possible stay and experience. To me, it's about creating memorable moments for every guest.
Radical hosting is key to our success. It is important to motivate, challenge and encourage my team to share and be a bigger part of the vision and to adopt these skills when looking after our guests.
Nothing makes me happier than investing in talent and succession plans and seeing the hotel associates develop, grow and establish themselves as future hoteliers. By spending time in coaching and guiding, I see them develop into great industry leaders of tomorrow. Attention to detail and determination to get the best out of the team is important whilst keeping the focus on service excellence along with the commercial success of the business. This creates great success and epitomizes new opportunities for growth.
HM: You have been in a senior position for a long time in the industry. How do you keep up with all the new trends and new developments that are continuously taking place? Do you make an effort to keep up with the speed of these developments that are now affecting the industry?
RD: As a hotelier, it's imperative to keep up with current developments and new trends, and I am constantly researching and encouraging my teams to move with the times, keeping the product updated and making sure that we compete against our competitor set, which to me is of utmost importance.
I travel constantly attending business forums, seminars and marketing fairs around the world, and when travelling it's essential to stay at different hotels and brands to experience and absorb what so many other hotels are doing. Some of my key learning experiences are from seeing what the best are doing and trying in your own way to incorporate that into my own business without the outlook to always keep the guest at the heart of everything we do.
HM: How does your experience of working in the Maldives compare to the United Kingdom?
RD: While both Maldives and London are destinations that in my opinion most aspire to visit but in very different ways. Fundamentally, the outcome is the same and it's the guest and our people that will determine if we are a success or not. This opportunity has really opened my eyes as to working in a different culture, environment and climate.
One of the challenges of living on an island instead of a big city is that the decision-making process is done in a very isolated environment where you don't have the support of central reservations or a massive head office structure to help or give advice. I feel the impact of decisions made is somewhat greater on an island hotel as I have a duty to fulfil my owner's vision and expectations, and so it is a great character building experience and something I am truly grateful for. Additionally, it's surreal to be living on an island where you feel truly connected to the resort and the people and understand it deeply in a way that one would never be able to connect with in a city hotel.
HM: The Maldives hotel scene seems quite interesting at the moment, with a lot of new openings. What are your thoughts?
RD: I think it's truly incredible. There is so much faith in the Maldives' future – with so many more three- and four-star resorts opening up. It's also wonderful to see despite an already saturated market that even more five-star resorts have opened and are in the pipeline, it is a testament to the fact that Velana International Airport is expanding and international flights and low-cost airlines are increasing.
The Maldives has a history of only being accessible to the affluent, but times have changed, and more people are to afford the destination due to the increased offering. However, it is still a destination of beauty, luxury, tranquillity and for most, an aspirational destination to come to, a bucket list experience so to speak.  Saying the future is bright and the Maldives as a destination has certainly got an amazing position on the world map.
HM: What is the philosophy that has led to success in your professional career? And what is the best advice you can give to aspiring professionals in the industry, whether they are just looking to be employed or aspiring to be in a management position?
RD: Let your success be adaptable to the changing world. Take calculated, but measurable risks. Take care of your people. Treat others how you would like to be treated. Celebrate success together as a team. Always remember opportunities don't happen, we create them. Surround yourself with good people. Aspire to become better every day. Do something you enjoy doing, and love facing every day. Lastly, believe in yourself, your success and your future, the rest will happen.