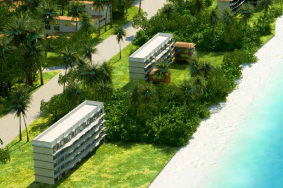 Government to launch guesthouse projects in north and south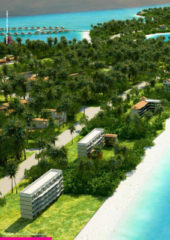 The government is planning to launch guesthouse projects in Haa Alif Kelaa in the north and Addu City in the south, Tourism Minister Ahmed Adeeb has revealed.
Speaking at a press conference last week at the Maldives Marketing and Public Relations Corporation (MMPRC), Adeeb explained that the concept for the projects would be the same as the 'Laamu Integrated Project.'
"The design and drawings are ongoing now, for Haa Alif Kelaa and Addu atoll, focused on the north and south," he said.
In December, the government extended the deadline for Expressions of Interest (EoI) for interested parties to develop and operate beach hotels in the Thumburi 'guesthouse island' in Laamu atoll.
Speaking to the state broadcaster during the recently concluded ITB Berlin Convention, MMPRC Managing Director Abdulla Ziyath revealed that the government has decided to change the island designated for the project from Thumburi to Baresdhoo in the same atoll.
Ziyath said the decision was made following consultations with potential investors.
Baresdhoo has a land area of 120.6 hectares
Construction of a jetty and harbour on Baresdhoo would begin in about a month and conclude before the end of the year, Ziyath said.
"So overall the project's viability and progress is very good. There was a slight delay over changing the island," he said.
As Baresdhoo was significantly larger than Baresdhoo, MMPRC said the government envisions the development of 1,700 rooms and 3,500 beds.
A total of 49 plots of land would be leased for guesthouse and beach hotel development. MMPRC said, whilst investors have expressed interest in more than 30 parcels of land so far and agreements were currently being signed.
The project – to be developed under a "communal tourism development" or "vertical tourism" concept – is overseen by the government's marketing corporation.
According to the MMPRC, the guesthouse island project is designed to "responsibly diversify the tourism product of the Maldives," and would see hotels and guesthouses operated by multiple local small and medium-sized enterprises.