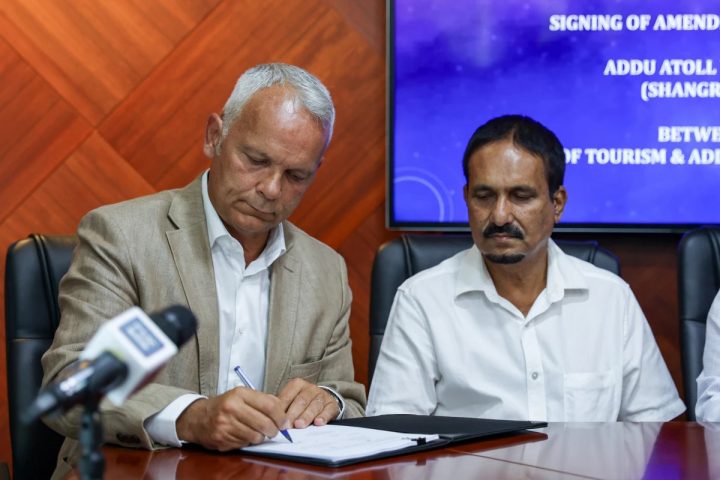 Govt formally offloads stake in Shangri-La Villingili Resort
The Maldivian government has formally divested its 30% ownership in Addu Investment Pvt Ltd, the operator of the Shangri-La Villingili Resort, which had been shuttered since the onset of the Covid-19 pandemic in 2020.
The Shangri-La resort, inaugurated in 2009, was forced to close its doors due to the pandemic and has remained inactive ever since. The prolonged closure resulted in job losses for numerous individuals in Addu, and a decline in tourism across the southernmost atoll.
The official agreement to relinquish the government's stake was ratified at a ceremony hosted by the Ministry of Tourism on Monday. Key signatories of the agreement included:
Tourism Minister Dr Abdulla Mausoom
Shangri-La's Director of General Affairs, Saud Abdullah
Minister Mausoom underscored that this stake disposal would facilitate the resort's reopening and reaffirmed the government's commitment to fully support and facilitate the revival process, which may include securing necessary permissions.
Brice Lunot, Shangri-La Maldives' General Manager, expressed optimism about leveraging the government's decision to attract opportunities for the resort's revival. Lunot mentioned exploring partnerships as one avenue to expedite the reopening.
The government's divestment of its Shangri-La stake was enabled by parliamentary amendments, as the process required a payment of USD 80 million.
Minister Mausoom refrained from divulging specific details of the share transfer procedure but acknowledged the incurred costs and the assessed value of the entire investment factored into the decision-making process.
The 70% majority ownership of Addu Investments Pvt Ltd, which holds the resort, remains unchanged. Earlier this year, the US investment firm CBRE Group was engaged to market the resort for sale by Addu Investments. However, the status of this sale remains unclear.
Key Details about Shangri-La Villingili Resort:
Size: 50.6 hectares
Bed Capacity: 284 beds
Lease Expires: February 26, 2105