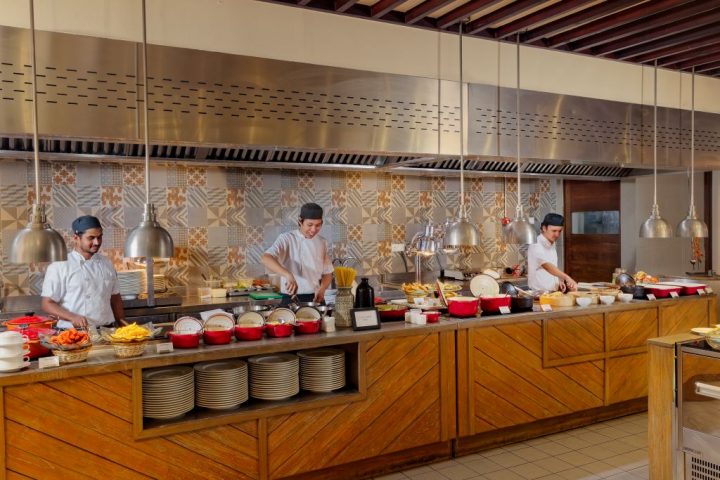 Grand Park Kodhipparu Maldives celebrates culinary excellence with the World Chefs Day
Grand Park Kodhipparu Maldives celebrated the talents of its illustrious chefs on International Chef's Day 2023, which is celebrated on 19th October of every year. This special occasion is a testament to the resort's commitment to culinary excellence and the diverse talents that contribute to the unique gastronomic experience offered to guests who visit the resort from around the world.
Grand Park Kodhipparu Maldives is not just a tropical paradise; it is a melting pot of culinary creations and traditions. The resort boasts a dynamic team of chefs hailing from different corners of the world, each bringing a unique set of skills and flavors to the table. This International Chef's Day, the resort takes pride in the rich tapestry of backgrounds that make up its culinary team, fostering an environment where diverse perspectives and skills converge to create an unparalleled dining experience.
At the heart of their culinary philosophy is the belief that food has the power to transcend borders and unite people. The kitchen at Grand Park Kodhipparu is not just a space for cooking; it's a canvas where their talented chefs create culinary delights and masterpieces that reflect the beauty of global diversity. The dedicated team of chefs also demonstrates a sense of camaraderie and teamwork whilst also promoting peace and harmony in the workplace, celebrating the differences that make them stronger as a team.
The concept behind this year's theme "Growing Great Chefs" is focused on inspiring children and youth to form a sense of curiosity and interest in the culinary world and the joys of cooking. So, Grand Park Kodhipparu chefs hope to infuse their love for this profession through their culinary creations and share this experience with their guests. The hope is to also leave an impact on any young guests who will also be part of this experience and nurture in them the potential of becoming future culinary experts.
As part of the International Chefs' Day festivities, guests at the resort can embark on a culinary journey. The resort's diverse team of chefs will showcase their skills and passion through a series of special menus featuring signature dishes. From the spicy flavors of Southeast Asia to the delicate tastes of Europe, guests will have the opportunity to savor a symphony of international cuisines without leaving the shores of this breathtaking Maldivian paradise.
"We are thrilled to celebrate International Chef's Day 2023 at our resort as we champion cultural diversity and the wealth of knowledge and experience that each chef brings to the table," says Raymond Tan, Executive Chef at Grand Park Kodhipparu. "Our team is like a family, and this celebration is a tribute to the shared love for food that binds us together. 'Growing Great Chefs' is not just a theme; it's a commitment to nurturing the talents within our kitchen as well as for everyone who stays with us. To be able to inspire everyone through a culinary approach is always a delight and we are looking forward to it."
Grand Park Kodhipparu Maldives invites everyone to join in the celebration of International Chefs Day 2023. Through the language of food, they seek to convey the message that diversity is a strength, and together, everyone can create a world where the flavors of unity and collaboration prevail.
For     reservations    and    more    information    visit:           https://www.parkhotelgroup.com/north-male- atoll/grand-park-kodhipparu-maldives/