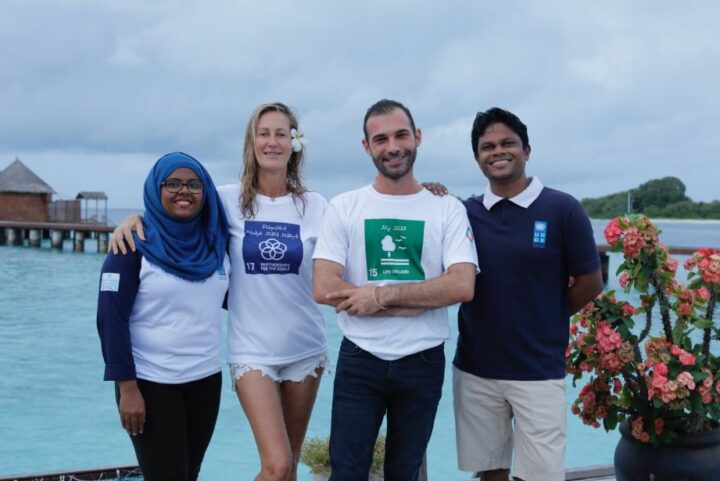 Guests at Nika travel deeper into the Maldives with Nostalgia and United Nations
Since the inception of its operations, Nika Island Resort & Spa has been growing with the community living in the local islands surrounding Nika. A consolidated synergy, an unwritten agreement of cooperation and the concept of mutual support lay the foundation of "island-life" in one of the most beautiful Atolls in the Country: North Ari Atoll.
The entire resort is a monument that celebrates the essence of "The Maldives that used to be." With Nostalgia – a platform that aims at creating awareness about the beauty and potential of the heritage of the country – Nika stresses the importance of adding value to the concept of "local experience".
The privileged community living at Nika can experience the local culture every day; it is carved on the coral-made blocks that have been used to build the walls of all the Villas and Suites.
Another factor that gives a strong local touch to the island is the community of Maldivians working at Nika. General Manager, Edoardo Caccin notes, "Since the beginning, we have been working with the community coming from Bodufulodhoo and Mathiveri: we made Nika together. 60% of the locals employed by Nika come from these two islands that are a few minutes away by Dhoni."
In order to consolidate the relations with the local community, during the last event of Nostalgia, Nika invited the team at UNDP to organize a guided tour to the island of Bodufulodhoo. Representatives from United Nations Development Program – Nasheeth Thoha along with Aishath Rizna – headed the special "mission".
During a crowded aperitif held at Nika, Thoha commented, "UNDP has been in the country for 40 years and Nostalgia has presented the platform to tell the story of the impressive development journey UNDP took with the Maldives."
The following day, the UNDP team guided Nika Community to Bodufolhoodhoo. During the visit, the team explained the dynamics that define life on a local Maldivian Island. "At UNDP we work on building resilience, helping young people realize their full potential and promote gender equality so that women and girls can have equal rights and opportunities," said Aishath Rizna.
With this special edition of Nostalgia, Nika and UNDP successfully managed to join together to shed light on the role that local communities play in the fragile "ecosystem" of a Maldivian Atoll.
UNDP operates on the ground in about 170 countries and territories, UNDP works to eradicate poverty while protecting the planet, helping countries develop strong policies, skills, partnerships and institutions so they can sustain their progress.