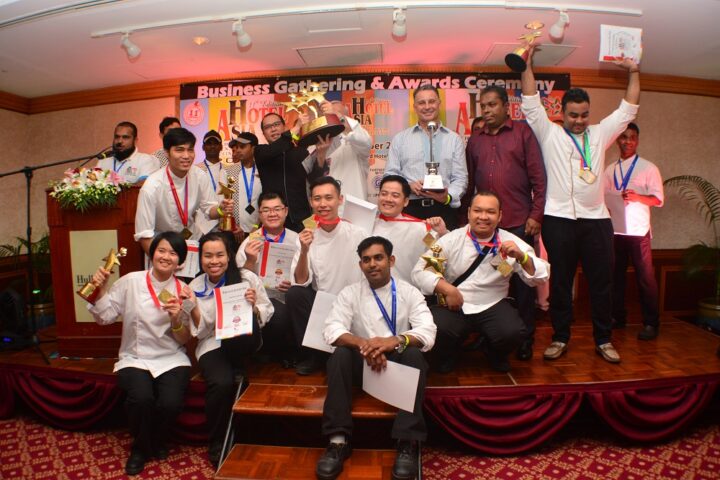 Hotel Asia Exhibition, Culinary Challenge slated for September
The 12th annual Hotel Asia Exhibition & International Culinary Challenge is due to take place from September 5 to 7 at the Dharubaaruge' convention centre in Male'.
The culinary competition will begin a day before the exhibition and continue for four days.
The Hotel Asia event is organised by the Maldives Exhibition and Conference Services (MECS) together with the event's long-standing partner and main sponsor Best Buy Maldives Pvt Ltd (BBM).
This year's event is once again supported by the Ministry of Tourism of Maldives along with the Sri Lanka – Maldives Bilateral Business Council and the National Chamber of Exporters of Sri Lanka. The Sri Lankan Chambers will be hosting two of the largest pavilions.
According to the organisers, the event offers an invaluable opportunity for resort businesses to discover new technology, products and services under one roof. Recognized as an International Standard Exhibition, Hotel Asia is considered the purchasing forum for resorts and hotels.
As the organisers put it: "Hotel Asia is more than a regional event, it is an international showcase and a global business arena."
The concurrent culinary challenge is meanwhile the region's premier competition. More than 450 Chefs from 60 resorts are expected to participate this year.
Due to the popularity of the competition, the organisers will start the Culinary Challenge one day ahead of the exhibition to accommodate more participants.
The competition includes a large number of categories, ranging from classics such as Pastas, Hot Cooking to Meat, Poultry and Seafood and Iced Mocktails.
One facet that makes the competition distinct from similar events around the world is novel categories such as Honeymoon Cakes and Tea Challenge.
The panel of judges consists of veteran chefs such as Alan Palmer along with distinguished members of the culinary industry.
The star-studded panel of judges is another key factor that contributes greatly to the credibility and prestige of the event. The judging panel includes:
Alan Palmer (Project Director and Chief Judge of the Culinary Challenge) – Palmer is a celebrated chef and the recipient of numerous prestigious culinary awards. He is also a founding member and Honorary Ambassador of the Singapore Chefs Association (SCA).
Otto Weibel (Director/ F&B Consultant) – Renowned in the international scene and in Singapore, Otto was voted Chef Restaurateur of the year by the International Foods Beverage Forum in 1999.
Tarek Ibrahim (Corporate Executive Chief, Meat & Livestock Australia) – Award-winning and internationally renowned chef Tarek Ibrahim developed his passion and respect for food from a young age. Recently acclaimed as a Master Chef by the World Association Chefs' Societies, Tarek is also a certified Executive Chef by the American Culinary Federation and Global Judge (WACS).
Perry Yuen (City of Dreams Casino and Hard Rock Hotel, Macau) – Most of Perry's employment has been with 5-star hotels where he worked his way up from a cook to an Executive Chef. He is now the Director of F&B at the City of Dreams Casino and Hard Rock Hotel, Macau.
Norbert Girnth (Master Chef) – Chef Norbert served his apprenticeship in a two Michelin-starred restaurant in Germany and worked in Switzerland, France, Jersey, and Morocco. After two years studying at the Heidelberg Hotel Management School, he has been running the Griechische Weinstube since 1970. The restaurant has been owned and operated by his family for the past two hundred years.
Martin Kobald (Owner MLK Food & Beverage Consulting) – The Austrian-born Chef extraordinaire began his culinary career in his home country, after completing his training with outstanding achievement. Kobald honed and developed his food and beverage skills as he worked his way up from Trainee Chef to Chef de Partie, Sous Chef, and finally, Head of Operations at various Austrian hotels and restaurants.
Rohan Fernandopulle (President of Bocuse d'Or Sri Lanka) – Besides being the 1st Sri Lankan Executive Chef of Hilton Colombo, he is also the only Sri Lankan member of the prestigious 'Club Des Chefs Des Chefs' where as a member of this elite group he had the privilege of visiting the White House in July 2013.
Eric Low (Cookbook author and chef) – An accomplished awards winning cookbook author, professional and celebrity chef, Low is the owner of Lush Epicurean, a multi-disciplinary Singapore based culinary consultancy. An alumnus of both SHATEC and the CIA(US), Low has more than 25 years of professional experience from running kitchens in various HORECA channels to private super yachts based in Monaco as well as developing innovative products and concepts for food and beverage giant Nestle as their R&D Chef.
Alvin Goh (Deputy Director, Culinary Arts, Institute of Technical Education, Singapore) – Since joining ITE in 2006, Goh had been instrumental in the setting up of the kitchen facilities and training programmes at the regional campus in ITE College West. The campus boasts of state-of-the-art training kitchens and restaurants for Pastry & Baking, Western cooking, Asian culinary and F&B service.
Eric Neo – As Executive Chef of InterContinental Singapore, Neo oversees the hotel's culinary operations and menus of its restaurants and bars, namely Olive Tree, Man Fu Yuan, Lobby Lounge and Victoria Bar, as well as the banqueting department.
Neo brings with him close to 20 years of culinary and catering experience across varied cuisines including Cantonese, Western, Peranakan, Asian, as well as local delights. Neo is the Vice President of Singapore Chefs Association, Culinary Committee Of Chaine Des Rotisseurs Singapore, F&B Sector Ambassador – WDA
Henrik Jonsson – Over the years Jonsson's experience has evolved from that of an executive chef into a team builder and manager. Jonsson gained experience in leadership and mentorship through being the executive chef at the School of Tourism & Hospitality, University of Johannesburg (2008 – 2013). He was promoted to Operations Manager, Food & Beverage (2013-2014).
Jonsson currently works as a Curriculum Specialist in Hospitality & Culinary at Abu Dhabi Vocational Education and Training Institute (ADVETI).
Jimmy Chang  – Chang graduated from Hana Cooking College in Tokyo and trained in the Hotel Okura and John Kanaya in Tokyo followed by further training in the Hotel Sofitel in Paris. Chang was Executive Chef of Sheraton Hotel Taipei (1979-1993) and has won several awards including 2 Gold medals from "Food and Hotel Asia" Singapore (1986).
Jodi-Ann Pearton (Ms) – Jodi-Ann Pearton graduated from Silwood Kitchen, one of South Africa's oldest culinary training schools in 2005, winning every major award available. To work and achieve is Jodi-Ann's life and this can be deduced from the vast work experience she has built up in her career to date.
In 2008 Pearton began The Food Design Agency, a successful company specialising in food styling, product development, product testing, high end functions, celebrity cheffing and skills up-liftment, to name a few.In 2010 she began The Cookie Design Emporium, an entrepreneurship project specialising in high quality cookies made with pure passion, the best raw ingredients and the environment in mind.
Keeping to the promise, Hotel Asia held a special culinary masterclass in March at Hulhulé Island Hotel. The class was followed by a briefing and knowledge sharing in participating at International Culinary Competitions.The Masterclass was conducted by celebrity Chef Geir Skeier,restaurateur and winner of the Bocuse d'Or 2009.
The Hotel Asia International Culinary Challenge is divided into 20 categories, including Dress the Cake, Novelty Cake, Honeymoon Cake, Desserts, Bread & Pastry Display, Fruit & Vegetable Carving, Hot Cooking Fish fillet, Hot Cooking Seafood, Hot Cooking Lamb, Hot Cooking Beef, Hot Cooking Poultry, Hot Pasta Appetizer, Cold Pasta Salad, Creative Asian Dish, Maldivian Dish, Young Chef, Team Challenge, The Perfect Steak & Omelette, Team Challenge and Iced Mocktail.
The Main Awards are, Individual Class Winners, Most Outstanding Chef, Most Outstanding Pastry Chef, Top Maldivian Chef, Best Culinary Establishment – "Alan Palmer Challenge Trophy", Food Hygiene Award, Judges Special Award and many more.
Visit www.hotelasia-maldives.com for full details, listings and registration.