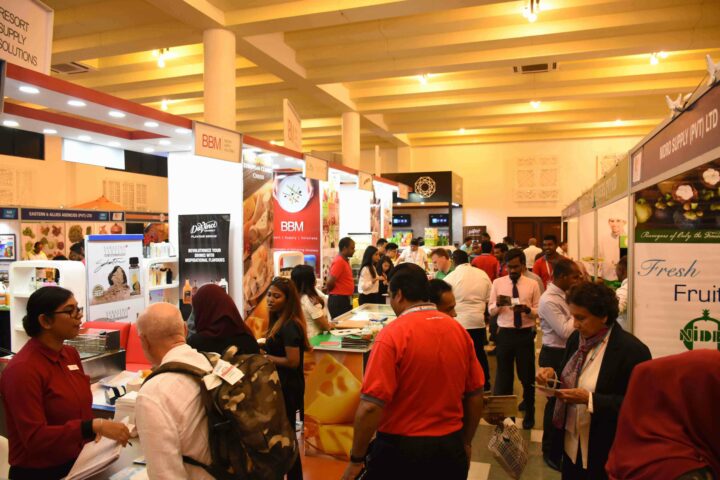 Hotel Asia Exhibition & International Culinary Challenge 2019 – the countdown begins!
The Biggest & Best, Food and Hospitality Event – "Hotel Asia International Culinary Challenge 2019" is scheduled to be held from 6th – 9th of October 2019 at Dharubaaruge, Malé, Maldives.
The trade show is the Maldives key hospitality event promoting the nation's food, beverage, hospitality and tourism sectors and has been endorsed by three bodies, namely the Ministry of Tourism, Ministry of Economic Development and the Maldives National Chamber of Commerce and Industry, with Bestbuy Maldives proudly continuing their unstinted support and partnership as the main sponsor of the event since its inception.
As with previous years, running concurrently will be the International Culinary Challenge where Bestbuy Maldives is sponsoring a number of classes and corresponding prizes. The culinary challenge will be judged by a star-studded panel of international chefs, headed by Alan Palmer, veteran Swiss chef with the endorsement of WACS. This prestigious competition is an excellent opportunity for industry professionals to showcase their culinary talents and go head to head; to find out who is the very best across the archipelago. The Winners of the International culinary challenge are given amazing opportunities by Bestbuy Maldives and takes a keen interest to develop the winning chefs on an International level.
This year, Bestbuy Maldives and the brands that they represent have sponsored the following categories;
Dress the Cake, Novelty Cake, Bread and Pastry (Display), Dessert (Display), Tapas/Finger Food, Desserts, Hot Pasta Appetizer, Creative Asian Dish, Creative Sandwich, Team Challenge, Maldivian Dish, Young Chef, Tea Challenge and Iced Mocktail. As for the Main awards, BBM will be sponsoring the Best Culinary Establishment, Most Outstanding Chef, Most Outstanding Pastry Chef, Top Maldivian Chef & the Best Artist.
This year, Bestbuy Maldives is scheduled to reveal a few additions to their extended portfolio of products; last year they launched two new products, Veliche & Da Vinci at Hotel Asia exhibition. Bestbuy Maldives remains not only a reliable supplier to the industry, but the company also provides opportunities for new talent to flourish and to showcase their talent.
Bestbuy Maldives as the honored "Main Sponsor" invites the service industry to visit and to be a part of Hotel Asia 2019. Visit www.bb-mld.com for more information