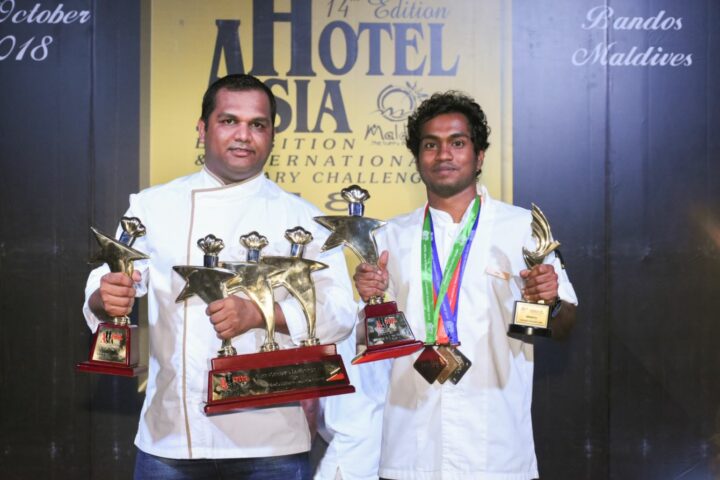 Hotel Asia Culinary Challenge winners to compete at La Cuisine at SIAL 2018
Chef Ibrahim Nathif and Chef Mohamed Adhil, top winners of the International Culinary Challenge held as part of Hotel Asia 2018, are set to represent the Maldives at the La Cuisine at SIAL 2018 in Abu Dhabi. Their participation is jointly hosted by Maldives Exhibition and Conference Service (MECS) and Bestbuy Maldives (BBM) – the main sponsor of Hotel Asia and one of the leading hotel and resort supplier in the country.
"As the organisers of Maldives' Hotel Asia International Culinary Challenge we are happy and proud to support the two chefs' participation at La Cuisine 2018," said Chef Alan Palmer, the Project Director of the culinary challenge. "Our goal is to develop chefs working in the Maldives by participating in such prestigious events which will provide them with the huge opportunity to improve their skills and the chance to meet other culinarians from the world over."
Commenting on this, Mohamed Mazloom, the CEO of BBM said, "For the past few years, we have set our goals to improve and set forth the culinary industry of the Maldives by grooming Maldivians and giving them an opportunity to showcase their skill and artistry in international platforms. We have set the stepping stones in the right direction to further develop the Maldivian Culinary industry into world-class."
La Cuisine at SIAL invites all professional chefs to participate in the upcoming competition held at the Abu Dhabi National Exhibition Centre (ADNEC) from December 10 – 12. It is organised by the Emirates Culinary Guild, in collaboration with the World Association of Chefs' Societies. "Stop waiting for things to happen, and go out and make them happen," said Chef Mohamed Adil, commenting on the opportunity.
"I am out here to prove that as an individual, one can achieve anything if they have a dream. I want to be the face of the Maldives which is not shy of achieving great moments at the global stage. This is what I am and my dream," he added.
Commenting on the opportunity Chef Ibrahim Nathif said, "I would like to thank BBM and MECS for this wonderful opportunity. Like always, it's an absolute pleasure to represent my country in an international platform where I get more exposure and experience which I always look forward to bring back to the Maldives' culinary industry."
La Cuisine at SIAL is the largest culinary competition in the Middle East region and a favourite meeting point for foodservice professionals. It is by far the largest gathering of foodservice professionals in the region, with live cooking competitions, ice sculpting and top chefs in attendance creating a unique culinary buzz. The event will host over 1000 chef competitors this year from all over the region competing across 19 different categories.
With the objective to improve skills of local chef's in the Maldives and to know the most up to date cooking techniques in national and international cookery and in traditional and contemporary cuisine BBM and MECS combine in providing opportunities to expose the talents of chefs not only locally but in the international stage as well. Hotel Asia International Culinary Challenge proved a milestone for many competitors, increase business networks, spring innovations, begin culinary momentums and provide maximum outreach. This event is a trading platform, a knowledge sharing experience, a networking opportunity. For more information, visit www.bb-mld.com.