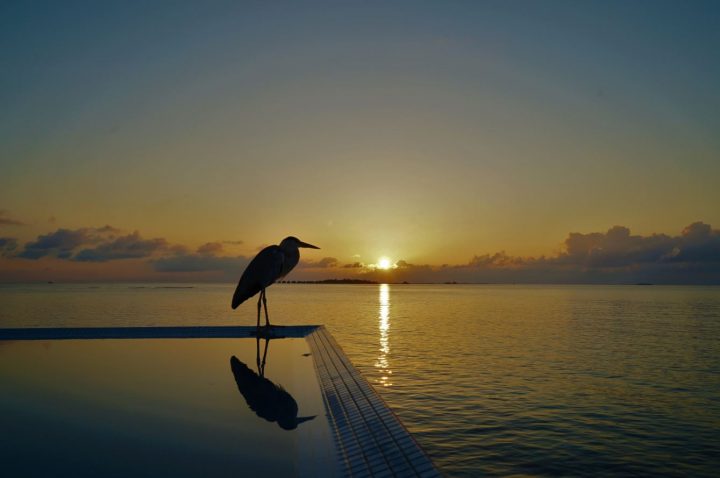 Resort News Weekly Roundup
Maldives crowned 'Best Honeymoon Destination' at Luxury Lifestyle Magazine Readers' Travel Awards
The Maldives has been crowned the winner of 'Best Honeymoon Destination' in the prestigious Luxury Lifestyle Magazine Readers' Travel Awards 2018. Conquering impressive competition from scores of romantic honeymoon destinations from across the globe to take the coveted title, the luxurious and romantic Maldives won over readers of the magazine to become the first-ever winner of the accolade.
The UK is one of the Maldives' most important inbound markets for tourism and this year will be an exciting time for the destination, with several tourism developments taking place including expansion plans at Velana International Airport and the opening of at least 23 resort and hotels during 2018 and 2019.
The awards, run by Luxury Lifestyle Magazine in partnership with Salcombe Gin, saw thousands of readers clamouring to nominate their picks of some of the industry's most astonishing travel destinations and show-stopping hotels, across a variety of travel-related categories. Designed to reward the travel industry elite for excellence in a number of categories, winners were eventually selected by an expert panel of judges.
Carly Rowena's floatation fitness residency at Coco Bodu Hithi
Carly Rowena, a world-renowned fitness guru, has held a fun and unique Floatation Fitness Residency at Coco Bodu Hithi, as part of Coco Collection Hotels & Resorts' "That Summer Feeling" series of tropical events and activities. The residency was held from June 16 to 25.
Carly's week-long residency consisted of four bespoke sessions, involving a mixture of functional movements combined with balance, cardio, and core-based movements all performed on stand-up paddle boards. Another activity involved using the beach, coconuts, the sea, and sand designed to give guests the tools to engage their core and use your abs without back pain, as well as learn new moves they can take with them anywhere, without the need of a gym.
A personal trainer, fitness blogger and author from the UK, Carly turned to YouTube after working for many years in a job that she disliked. Through YouTube, she cultivated a loyal online community of subscribers and followers, who collectively inspired her to quit her job and qualify as a Personal Trainer. To learn more, please visit cococollection.com.
Gili Lankanfushi introduces new gastronomic vision with launch of Kashiveli
Gili Lankanfushi has relaunched its signature island restaurant as Kashiveli, showcasing locally-sourced, nutritious ingredients and vibrant Maldivian flavours. Overseen by executive chef Aldo Cadau, the restaurant celebrates the bounty and abundance of the island's lush tropical location, marrying the very best produce from the land and sea.
To celebrate the restaurant's relaunch, Gili Lankanfushi is set to introduce the Gili Culinary Journey – a rotating selection of international dishes which offer guests a global tasting tour without stepping foot off the spectacular beaches of the North Malé Atoll. Offered three nights per week at Kashiveli, the Gili Culinary Journey will celebrate the heritage and talent of the resort's culinary team with a diverse range of signature dishes.
According to the resort, the rotating menu of signature dishes will touch upon nine global gourmet hotspots in all, reaching from Alicante, Spain, to Nosy-Be, Madagascar and Padang, Indonesia. To learn more about the gastronomic experiences at Gili Lankanfushi, please visit gili-lankanfushi.com.
Veligandu Island Resort & Spa introduces paper straws
Veligandu Island Resort & Spa has introduced eco-friendly paper straws, as part of its sustainability initiative and cease the use of single-use plastics. According to the resort, the introduction of paper straws takes the resort one step closer to a plastic-free future.
Guests at Veligandu use approximately 225,000 plastic straws every year, which is an estimated 3.67 plastic straws per guest, according to the resort. As part of activities to celebrate World Environment Day, marked on June 4, and World Oceans Day, marked on June 6, guests and staff at Veligandu came together to drive further action and awareness into environmental sustainability.
Crown and Champa Resorts had an eventful week to mark World Environment Day and World Oceans Day, by hosting and participating in educational initiatives towards environmental sustainability in the Maldives under the theme "Beat Plastic Pollution". Events held at CCR Resorts included hosting nature walks, tree planting, lagoon and reef cleaning, and awareness sessions. To learn more about Veligandu Island Resort & Spa, please visit veligandu.com.