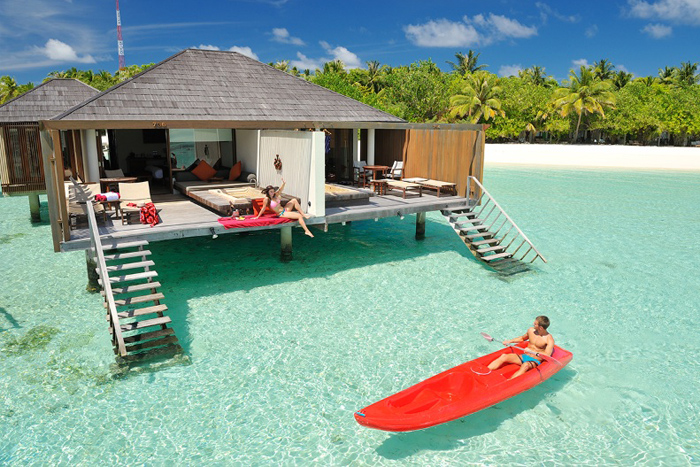 Hotel Review: Paradise Island Resort and Spa
Something for Everyone
Nashiu Zahir
Ensconced in a large, splendid lagoon in North Male Atoll sits Paradise Island Resort; a long time bastion of Maldivian tourism. The midday sun confers a fiery light over the island; its snowy sundrenched beaches stretch out, encircling brilliant foliage. Palms and tall trees sway in a listless breeze. Around the island is a seawall, by which stands the big arrival jetty. Staff members are busy welcoming guests and they are shown the way to the reception which is at the end of a short walk down the jetty.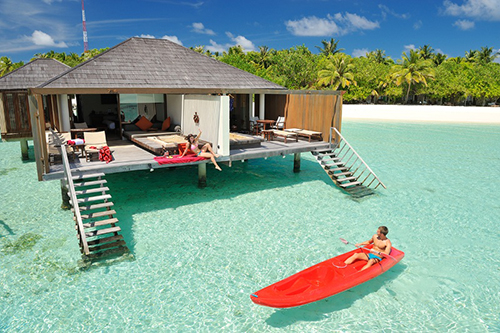 The reception is housed in a vast building with wooden columns and slanted ceilings that also houses one of the bars, a coffee shop and the main restaurant. In the day it is a bustling place; the animated chatter of guests and staff accompany birdsong and the rustle of trees outside. At night it is busier still; in the softly lit reception hall the thump and drone of house music is clearly audible and the more energetic guests dance the night away in the bar.
Qaisar Naseem, the resort's General Manager, describes it as a 'diverse' place, one that is very hospitable even to locals. "We cater to many markets; the Chinese, Indians, Europeans and of course Maldivians," he says. "If you look at any resort in the country, there is no place that locals visit more often than here." Around a hundred or so Maldivians flock to the resort during weekends, according to Naseem. "We always keep a certain number of rooms especially for locals," he says. "It's a diverse place, like I said."
This diversity is also reflected in how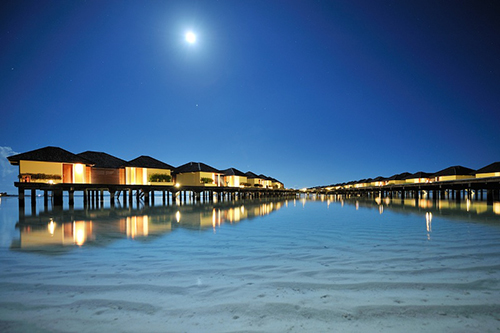 they serve clients with different needs and purchasing power. "We cater to high end clients with our over water accommodation," he says. "Whereas the accommodation based on land is geared to mid-market and budget conscious clients." Naseem does not want the resort to be solely focused on upscale clientele. "We want to cater to as many markets as possible," he says.
The concept behind Paradise is, therefore, that of an 'all in one' resort, offering something for everyone. "And that is our uniqueness I believe," Naseem says. "Some other resorts attract only a specific kind of clientele, whereas we are able to accommodate a greater range of clients. We attract not only those on a budget but also the very high end. We have the facilities to suit all their requirements. Our 300 plus rooms are a great asset; we're able to please all kinds."
The resort boasts five types of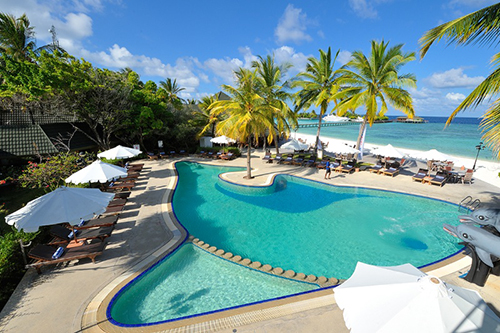 accommodation with the over water villas and suites serving high end clients. These over water havens are sumptuous affairs, spacious, lavishly furnished and overlooking the magnificent lagoon. Steps lead down to the water for guests to enjoy a swim or to snorkel and delight in the island's marine landscape. They are relatively new additions to the resort, constructed in the late 2000s.
The more modest beach villas too have their own charm; a comfortable bed, LCD television, and a little porch at the back, replete with deck chairs, to take in views of the sea.
Paradise was initially operated as Lankanfinolhu, with a few rooms, until hotel magnate Qasim Ibrahim took over in the early 90s. "Qasim changed the place a lot, including the landscape of the island," says Naseem. "He reclaimed a lot of land and made the island what it is today. But you don't feel as though the island has been reclaimed; everything, including the beaches, have that natural look. And at the time of its opening, Paradise Island Resort was the best resort in the country in every way, aesthetically, and facilities wise."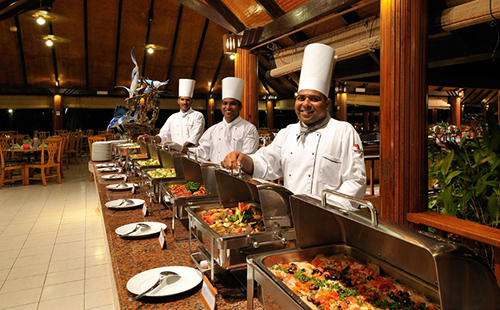 Even now, two decades after its opening, the resort remains at the forefront of its category. It has garnered high ratings on travel sites such as Tripadvisor, and on booking sites such as agoda and booking.com. A slew of awards adorns the wall of the reception area, including three 2013 honours from World Travel Awards and numerous Tripadvisor certificates.
In the business of pleasing guests, Paradise is a veteran. Its signature Spa brand Araamu Spa, which inhabits all sister Villa Hotels resorts, is a Balinese style outfit that offers guests a wealth of treatments, both far eastern and local. Paradise's dive and watersports centres, which again are operated by the resort, are well equipped and highly reputed. Its large lagoon and excellent house reef provide ample opportunities for recreation for the more active and adventurous guests.
But perhaps what is more challenging is pleasing a variety of palates; cooking for people with diverse ethnic and cultural backgrounds is a daunting task. Yet Paradise pulls it off well, with its five restaurants geared at different tastes. "You have to have a passion for what you do, and you have to take your job seriously," says the resort's Executive Chef Sunil De Silva, a native of Sri Lanka who has worked in F & B for over two decades. "At this resort there are so many different types of tastes to cater to, but our team works diligently, to make sure that everybody finds something to their liking, and to guarantee consistency in our fare."
Even in food, the resort has something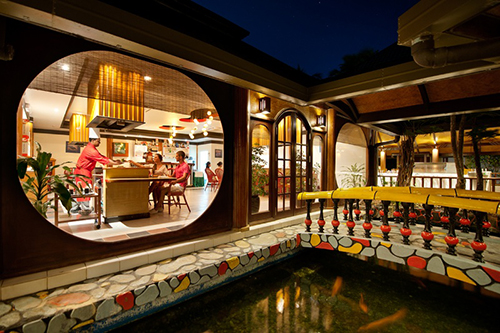 for everyone, with a variety of buffets at the main restaurant, and other specialty restaurants that serve authentic Italian, Japanese and Chinese cuisine. "Recipes are followed closely, and we ensure freshness of our ingredients by not purchasing perishables in bulk," says De Silva. "So we are able to maintain a high level of authenticity in our fare. With our food, we aim to create memories for guests to cherish, long after they've departed."
Given its accolades, the challenge for Paradise will be to keep up its efforts in delivering its trademark hospitality to clients. "We will seek out aspects that need to be improved upon," says Naseem. "We won't be idle; the demands of guests are ever changing, and we need to keep abreast of them. My vision for the resort is to maintain its level of excellence in serving guests for years to come." With the level of dedication the staff and management has exhibited thus far, this seems a realistic goal.